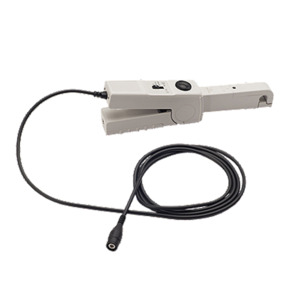 Description

Specifications

Documents
Frequency range: DC to 100 kHz (-3dB with current de-rating)
Maximum Peak Current: 100 mV/A: 10 A dc or peak ac, 10 mV/A: 100 A dc or peak ac
AC current accuracy: 100 mV/A (50 mV to 10 A peak) - 3% of reading ≥50 mA 10 mV/A (500 mA to 40 A peak) - 4% of reading ≥50 mA 10 mV/A (40 A to 100 A peak) - 15% max at 100 A
Working voltage: 600 V max
Battery: 9 V alkaline
This AC/DC current probe provides accurate display and measurement of currents up to 100 A dc or peak ac, dc to 100 kHz, without breaking the circuit. The Keysight 1146B uses hall-effect sensor technology to measure AC and DC signals. It is compatible with any Keysight oscilloscope with 0.2 to 0.5 V/div sensitivity and 1 MΩ BNC input. For use with high-end Infiniium oscilloscopes with 50 ohm input, use the high impedance adapter (E2697A for 80000 and 90000 Series or N5449A for 90000X/Q Series).
The 1146B is ideal for capturing transient current signals such as those found in motor controllers, switching power supplies, inverters and current amplifiers driving inductive loads.
The 1146B is the replacement of the 1146A. The 1146B is 100% form, fit, function equivalent to the 1146A.
Alternate Product Number: 
12978.5