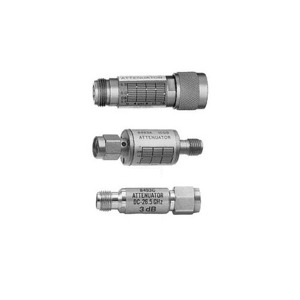 Description

Specifications

Documents
Attenuators
8491A - DC to 12.4 GHz, Type N
8491B - DC to 18 GHz, Type N
8493A - DC to 12.4 GHz, SMA
8493B - DC to 18 GHz, SMA
8493C - DC to 26.5 GHz, 3.5mm

Attenuator Sets
11581A includes four 8491A attenuators.
11582A includes four 8491B attenuators.
11583C includes four 8493C attenuators.
All Attenuator Sets include 3, 6, 10, and 20 dB
attenuators in a walnut case.
Keysight's coaxial fixed attenuators provide precision attenuation, flat frequency response, and low SWR over broad frequency ranges (DC to 26.5 GHz) at low prices. Attenuators are available in eight attenuation values: 3, 6, 10, 20, 30, 40, 50, and 60 dB; and with choice of four connector types.
A calibrated set of four fixed coaxial attenuators (3, 6, 10, and 20 dB) is available. Each set includes a calibration report certified traceable to the NIST. The reports included with the 11581A, 11582A, and 11583C indicate the accuracy of measurement and list the attenuation and reflection coefficient at each port of the attenuator. The set of four attenuators is furnished in a handsome walnut accessory case. In addition to protecting the units when not in use, the case is also a convenient storage place for the attenuators and the calibration reports.
Ordering Information
Atten.
8491A/B
8493A/B
8493C
3 dB
8491x-003
8493x-003
8493C-003
6 dB
8491x-006
8493x-006
8493C-006
10 dB
8491x-010
8493x-010
8493C-010
20 dB
8491x-020
8493x-020
8493C-020
30 dB
8491x-030
8493x-030
8493C-030
40 dB
8491x-040
 
8493C-040
50 dB
8491x-050
 
 
60 dB
8491x-060
 
 
Alternate Product Number: 
15205.2