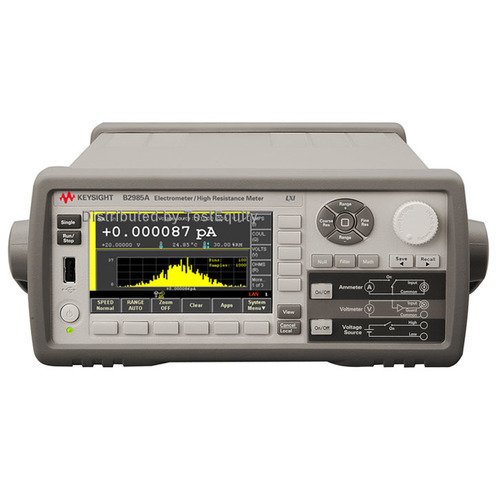 Description

Specifications

Documents
Best-in class 2 pA – 20 mA measurement ranges and internal 1000 V source (B2985A/B2987A) ensure accurate 0.01 fA & 10 PΩ measurements
< 20 μV burden voltage on the lowest current range
High speed reading rate up to 20,000 rdg/s
Independent current and voltage measurements (B2985A/B2987A)
Available battery operation versions eliminate AC power noise
Measure down to 2 nC range with 6.5 digits resolution (B2985A/B2987A)
Temperature and humidity measurements (B2985A/B2987A)
Graphical viewing modes (Meter, Graph, Histogram and Roll View)
Time domain view enables transient signal behavior capture
Easy-to-use auto navigation for optimal range and aperture
Real time histogram view provides quick statistical analysis
Optional Test Setup Integrity Checker function for noise isolation
Versatile interface: USB 2.0: front and rear, LAN, GPIB, LXI Core
USB (front): store data, save/recall setup information
Free PC control software
Three-year warranty
The world's only graphical Picoammeter/Electrometer that confidently measures down to 0.01 fA and up to 10 PΩ
The Keysight B2981A and B2983A Femto/Picoammeters and B2985A and B2985A Electrometers/High Resistance Meters not only offer best-in-class measurement performance, but also provide unprecedented features to maximize your measurement confidence. The Femto/Picoammeters and Electrometers both offer 0.01 fA (10-17A) minimum current resolution, which meets virtually all existing and future low-level current measurement needs.
Unique capabilities and features maximize confidence for sensitive measurements
The electrometers feature a 1,000 V voltage sourcing capability that supports up to 10 PΩ (1016 Ω) resistance measurements. The electrometers also work with Keysight's well-proven high resistance meter accessories. Both the Femto/Picoammeter and Electrometer have battery powered versions to eliminate AC power line noise. This available capability provides an unmatched level of noise reduction, enabling low-level measurements that were previously impossible.
Unlike conventional picoammeters and electrometers, the B2980A series possesses a 4.3" color LCD-based graphical user interface (GUI) that provides multiple options for viewing data. In addition to numeric format, data can also be viewed as a graph, as a histogram and as a trend chart. These unique front-panel capabilities facilitate the capture of transient behavior and provide the ability to make quick statistical analysis without the need for a PC.
The B2980A series also has features to help you maintain measurement integrity on the external cabling and fixturing. The available Setup Integrity Checker software permits the comparison of noise levels for different cabling and fixturing arrangements, allowing you to identify and isolate the noise-sensitive areas in your measurement system. In addition to these impressive measurement capabilities, the B2980A series has easy-to-use and convenient measurement assist functions that permit users with limited or no electrical engineering training to perform complicated electrical characterization operations with ease.
Battery operated models eliminate power line noise
AC power line noise strongly impacts sensitive measurements. While integrating over one or more PLCs can minimize AC power line noise effects, even the B2980A Series models' excellent noise performance cannot eliminate 100% of this noise unless the instrument is completely isolated. Therefore, both the Femto/Picoammeter and Electrometer have available battery operated versions that enable you to make power-line-noise-free measurements. The two battery-enabled models can function for 6 hours (B2983A) or 4 hours (B2987A) under normal operating conditions, and they also automatically save your measured data and measurement setup information if the battery level goes below 5%. Of course, besides eliminating noise the battery models provide the added benefit of portability allowing you to use them anywhere you want.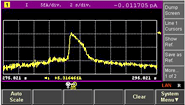 Time domain view (Roll View)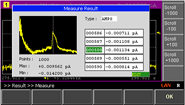 Data recorded up to 100,000 pts.
Temperature and humidity measurement capabilities
Temperature and humidity are critical parameters for high resistance measurements. The B2985A and B2987A electrometers contain both temperature and humidity sensors interfaces, and a dedicated thermocouple (N1423A) is furnished with these models. The EE07 Digital Humidity/Temperature Probe from E+E Electronik can be used for humidity and temperature sensing, which provides more accurate temperature data than a thermocouple.
Time domain view (Roll View) lets you visually choose when to capture data.
The B2980A series' GUI provides a Roll View that can graphically display data as it is taken and that also can store up to 100,000 of these data points for later retrieval. With a sampling rate of up to 100 kHz, the Roll View can reveal real-time measurement trends and provide valuable insights into the dynamics of your DUT's behavior. To facilitate this data analysis, the B2980A series provides flexible graphing capabilities. In Graph View the electrometers can plot I-V curves on their displays using values from either the internal voltage source or voltage measurement data.
Other features include: graphical capability (Meter View, Graph View, Histogram View, Roll View), auto navigation, 100 k points sample buffer, versatile interface (USB, LAN, GPIB, LXI Core), and free PC control software. One (1) 16494A Triaxial cable is included with each model. One (1) N1418A Lithium-ion battery pack is also included with B2983A and B2987A.
Keysight B2980A Series applications:
Material science (Biomaterials, ceramics, elastomers, films, dielectric materials, electrochemical, ferroelectric, graphene, metals, organic materials, nano-materials, polymers, semiconductors, etc.)
Devices and electronic components (capacitors, resistors, diodes, sensors, transistors including TFT and CNT, optoelectronics, solar cells, etc.)
Electronic/non-electronic systems (ion beam, electron beam, sensing systems, particle measurements, embedded precision instruments, etc.)
Alternate Product Number: 
21258.1