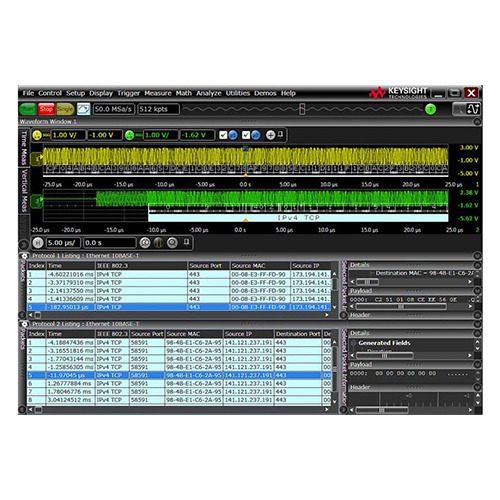 Description

Specifications
Keysight D9010EMBP/R-B5P-001-A/R-B6P-001-L Node-locked perpetual license with 12 months KeysightCare software support
The S-Series Protocol Applications from Keysight allows you to simplify the debugging of your design with more than 19 protocol decoders available, and quickly move between physical and protocol layer information using the time-correlated tracking marker.
Key Features & Specifications
Set up your scope to show Automotive Ethernet protocol decode in less than 30 seconds
Get access to a rich set of integrated protocol-level triggers
Save time and eliminate errors by viewing packets at the protocol level
Refer to the data sheet when selecting your application of choice to ensure it is compatable with your oscilloscope
Description
D9010EMBP includes the following powerful protocol decode and trigger software: PCI Express Gen 1 and Gen 2, USB 1.1, USB 2.0, eUSB2, USB HSIC, USB-PD, 10BASE-T Ethernet, and 100BASE-TX Ethernet. For detailed information, please refer to the datasheet.
Alternate Product Number: 
2003261536296485