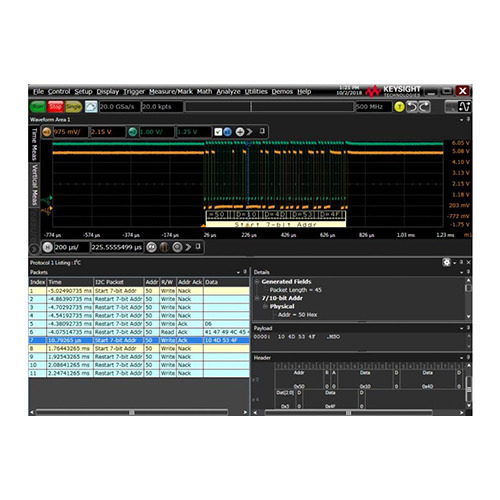 Description

Specifications
Keysight D9010LSSP/R-B5P-001-A/R-B6P-001-L Node-locked perpetual license with 12 months KeysightCare software support
The S-Series Protocol Applications from Keysight allows you to simplify the debugging of your design with more than 19 protocol decoders available, and quickly move between physical and protocol layer information using the time-correlated tracking marker.
Key Features & Specifications
Get your low speed serial debug done faster and simpler by using this package, which combines over 10 of the most popular interfaces into one
Set up your scope to show specific protocol decoding in less than 30 seconds with an auto setup feature
Get access to a rich set of integrated protocol-level triggers – see datasheet for a complete list
Save time and eliminate errors by viewing packets at the protocol level
Use time-correlated views to quickly troubleshoot serial protocol problems back to their timing or signal integrity root cause
Description
This bundle includes powerful decoding and triggering for the following serial bus standards: I²C, SPI, Quad SPI, eSPI (including Quad eSPI), RS232/UART, Manchester, I²S, SVID, and JTAG (IEEE 1149.1). It is compatible with S-Series, V-Series, Z-Series, UXR Series, EXR Series, 9000 Series, and 90000 Series Infiniium oscilloscopes. For detailed information on the decode and trigger settings, please refer to the datasheet. For assistance with using the applications, refer to the Infiniium help guide.
Alternate Product Number: 
191113859197658