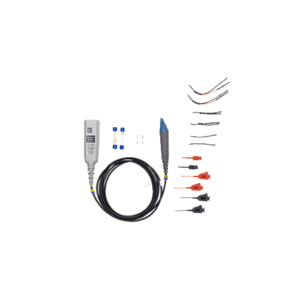 Description

Specifications

Documents
For extreme temperature environmental chamber testing at -40°C to +85°C
High resistance (1MΩ) and low capacitance (1 pF) input for low loading
Wide input dynamic range (±8V) and offset range
Built-in headlight for better visibility while probing
Includes various probe tip accessories
Direct connection to AutoProbe interface (no power supply required)
Provides full system bandwidth with InfiniiVision and Infiniium oscilloscopes with bandwidths up to 1 GHz
2 m long cable
Three-year warranty
A perfect accessory for use with TestEquity Environmental Chambers!
1.5 GHz Extreme Temperature Single-ended Active Probe
The N2797A single-ended active probe, the first low-cost high input impedance (1 Mohm input R at DC) active probe with rugged tips for environmental chamber testing of ICs and devices, can measure signals from -40 to +85°C. The probe provides 1.5 GHz of bandwidth and a 2 m long cable. The N2797A is equipped with a pleasant white LED headlight to illuminate the circuit under test, and is powered directly by the InfiniiVision and Infiniium Autoprobe interface, eliminating the need for an additional power supply.
The N2797A comes with a number of accessories that allow for easy connections to the circuit under test:
10 each solderable tip
5 each rigid probe tip
2 each flex nose clip adapter (red and black)
1 each pico hook tip (red and black)
2 each Y-lead adapter, 9 cm (800 MHz)
2 each Y-lead adapter, 6 cm (1 GHz)
2 each right angle ground, 5 cm
2 each ground blade
4 color coded rings (each yellow, green, blue and purple)
Alternate Product Number: 
21542.1