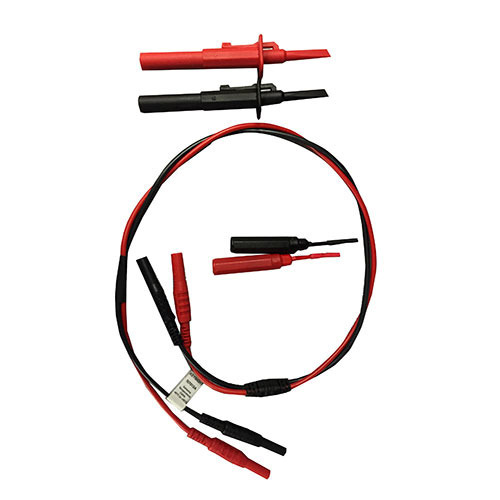 Description

Specifications

Documents
25 MHz when used with the N2791A (±700 V, 25-MHz differential active probe)
70 MHz when used with the N2790A (±1400 V, 100-MHz differential active probe)
70 MHz when used with the N2792A (±20 V, 200-MHz differential active probe)
70 MHz when used with the N2818A (±20 V, 200-MHz differential active probe)
-40 to +85°C operating range
70 cm cable length
A perfect accessory for use with TestEquity Environmental Chambers!

The N7013A kit is an extreme temperature differential cable set with probing accessories that is compatible with Keysight's high- and medium-voltage differential active probes (compatible differential probes listed above) that have banana-type connections to their probing accessories, i.e., hook tip adapters. The N7013A kit (cable and accessories) is specified to operate in temperatures ranging from -40 to +85°C. This 70 cm long differential cable set and accessories allows leaving the temperature-sensitive differential active probe body outside of an environmental chamber while the extension cables and accessories are extended into the chamber for testing sensitive electronics under extreme temperature conditions. The N7013A kit includes the following items:
1 pair of extreme-temperature 70 cm long differential cables (1 black and 1 red bound together)
1 pair of extreme-temperature hook tip adapters (1 black and 1 red)
1 pair of extreme-temperature banana-to-socketed tip adapters (N7014A) for connecting to 0.025" square pins (1 black and 1 red).
Alternate Product Number: 
24877.1