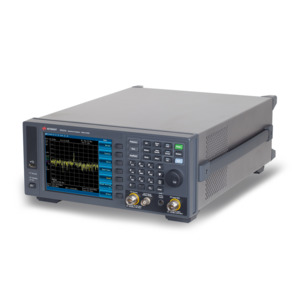 Description

Specifications

Documents
N9324C Basic Spectrum Analyzer (BSA)
1 MHz to 20 GHz frequency range
±0.7 dB absolute amplitude accuracy
10 Hz to 3 MHz resolution bandwidth
-140 dBm Displayed average noise level, 1 GHz
-119 dBc/Hz phase noise, 1 MHz offset
50 dB input attenuator, with 5 dB steps
+15 dBm TOI
2 ms to 1000 s sweep time (span >100 Hz)
Accessories supplied as standard: USB cable, N-BNC adapter, BNC cable and power cord.
N932xC BSA-C Series Features:
Equipped with tracking generator for stimulus response tests
Powerful spectrum monitoring feature allows identifying interfering signals arising from unwanted or unexpected transmissions
Support AM/FM, ASK/FSK demodulation analysis suites for IoT transmitter characterization
Implement up to 20 pre-defined measurements automatically and reduce test setup time by 95% with the task planner feature
Achieve straightforward and efficient operation with marker demodulation, one-button optimization, and user-definable soft keys
Supports Keysight U2000 Series, U2020 and U2042/44 X-Series USB peak and average power sensor
Achieve higher productivity on a smaller budget with the N932xC BSA-C series. The series features proven test efficiency, best-in-class usability, and the flexibility to adapt to new requirements. N932xC extends the frequency range from RF to microwave in one code set based on a proven reliable platform. It offers an essential spectrum analysis solution to address the evolving general purpose need such as EMI troubleshooting and test, radio link monitoring, wireless IoT device testing and education applications. These are just a few of the reasons using this series means you can rely on results.
Alternate Product Number: 
31475.1
Series: 
N932xC BSA-C Series