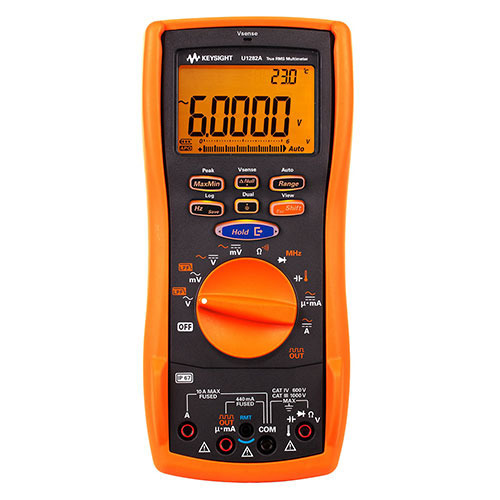 Description

Specifications

Documents
60,000-count resolution
0.025% basic DCV accuracy
Broad range of measurement functions: Voltage, Current, Frequency, Capacitance, Resistance, Continuity, Diode Test, Temperature (Type-K t/c)
CAT IV 600 V / CAT III 1000 V
IP 67 water and dust proof, 10 ft drop-proof
800 hours battery life
Optional remote switch probe for Hold and Save function
Data logging and report generation functions with Meter Logger software
Infrared (IR) port for use with optional U1117A IR-to-Bluetooth adapter for Remote Link solution compatibility
Extendable to 2-year calibration interval (with 2-year specification)
Three-year warranty
The U1280 Series 4-1/2 digit handheld digital multimeters excel in ruggedness and durability with IP 67 ratings, 10 feet drop-proof and long battery life. They optimize your productivity with the unique data logging and report generation functions designed to work seamlessly with Meter Logger software and optional remote switch probe.
Manual logging made easy with Hold & Export button
Manual data logging conveniently records measurements and reduces error. Better yet, you're able to store measurement readings into the U1280 Series' internal memory and at the same time export the measurements to the Keysight Meter Logger software or Keysight Remote Link solution via the DMM's infrared port — all of these by simply pressing the Hold & Export button. When needed, the optional U5404A remote switch probe can be used to perform manual logging by emulating the Hold & Export button.
Keysight Meter Logger software provides a comprehensive data logging experience, as well as other Keysight U1200 Series handheld DMMs. Your handheld DMM can be easily connected to the Meter Logger software that runs on a PC via Infrared (IR)-to-USB cable, or wirelessly — with the optional Keysight Remote Link solution. The data log measurements can be presented either by trend plot or table format for easy interpretation and further analysis — essential for troubleshooting and commissioning tasks. Once the measurements are recorded in the software, you can transfer the logged data into various types of report formats with just a click of the button.
Programmable
The U1280 Series comes with programmability capability that allows avid programmers to create computer programs to control the handheld DMM. The programmability of Keysight U1280 Series allows you to automate these DMMs, or even integrate them into larger test systems.
Includes: Test leads (red and black), Infrared (IR)-to-USB cable, Four (4) AA batteries, Quick Start Guide and Certificate of Calibration.
Alternate Product Number: 
25252.1