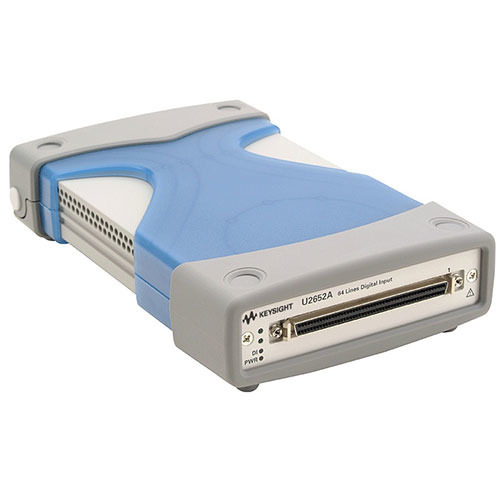 Description

Specifications
High-speed USB 2.0, USBTMC-USB488 standard (compatible with Microsoft Windows operating systems)
Functions as a standalone or modular unit
Interrupt function
Virtual Port grouping function
High performance
- 64 Input lines
- Isolation Protection of 1250Vrms
- Input voltage: 10 to 24V
A BenchVue software license (BV0025B) is now included with your instrument. BenchVue makes it simple to connect, control instruments, and automate test sequences
Keysight U2652A USB Digital I/O is a cost-effective device with its offering of 64 opto-isolated digital lines.
Giving users more flexibility, the U2652A is compatible with a wide range of application development environments such as Keysight VEE, MATLAB R2007a, NI LabVIEW and Microsoft Visual Studio.
The U2652A works together with an optional U2903A or U2904A terminal block for easy connections.
With high voltage protection of 1250Vrms, the U2652A is ideal for industrial automation and control.
Alternate Product Number: 
17462.2