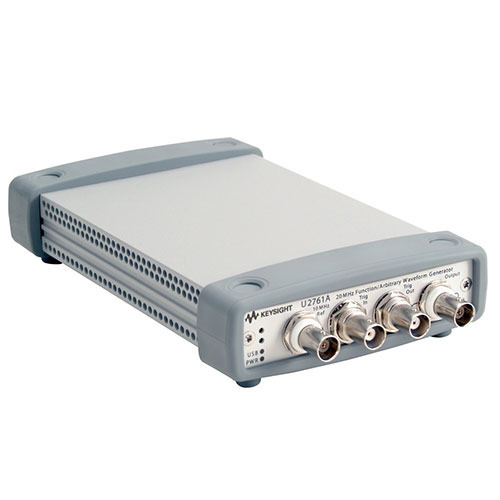 Description

Specifications

Documents
20 MHz Sine and Square waveforms
Pulse, Ramp, Triangle and DC waveforms
14-Bit, 50 MSa/s, 64 K-point Arbitrary waveforms
AM, FM, PM, ASK, FSK, and PSK modulation
Linear & logarithmic sweeps
40 mVpp to 5 Vpp amplitude range (into 50 Ohms)
Includes Arbitrary Waveform editor software
High-speed USB 2.0 (480Mbits/s) TMC 488.2 compliant
Standalone or modular capabilities
The U2761A is a 20MHz function generator that offers 10 standard waveforms plus pulse and arbitrary waveforms generation capabilities. It uses the common non-proprietary standard high-speed USB 2.0 interface that provides ease of connectivity ─ allowing users to set up and configure their test swiftly with the plug and play feature. It comes bundled with the Keysight Modular Instruments Measurement Manager for quick setup to perform measurement. Users are able to customize waveform by drawing in the arbitrary waveform editor.
The U2761A can function as a standalone or modular device allowing it to connect with other Keysight USB modular instruments when used with Keysight's U2700A series modular instrument chassis. Giving users more flexibility, the U2761A is compatible with a wide range of application development environments such as Keysight VEE, NI LabVIEW and Microsoft Visual Studio.
Includes:
- 12 V, 2 A AC/DC adapter and power cord
- USB Standard-A to Mini-B interface cable
- L-Mount kit (used with the modular instrument chassis)
- Keysight Automation-Ready CD (contains the Keysight IO Libraries Suite)
- Keysight USB Modular Products Quick Start Guide
- Keysight USB Modular Products Reference CD-ROM
- Keysight Measurement Manager Quick Reference Card
- Certificate of Calibration
A BenchVue software license (BV0022B) is now included with your instrument. BenchVue makes it simple to connect, control instruments, and automate test sequences.
Alternate Product Number: 
17038.1