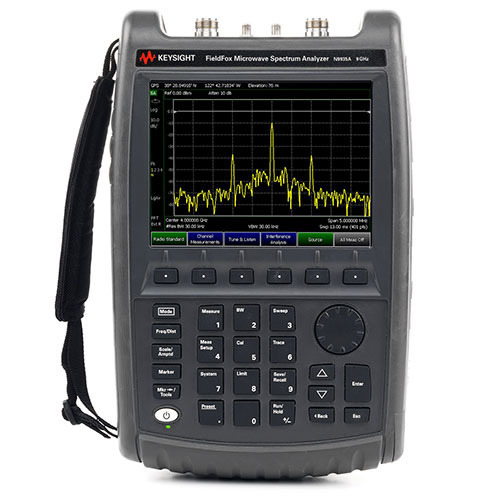 Description

Specifications
Spectrum Analyzer
5 kHz to 18 GHz
± 0.5 dB amplitude accuracy, full band, temp. range of -10 to +55 C(14 to 131 F)
Spur-free dynamic range ≥ 105 dB
Tracking Generator (optional)
30 kHz to 18 GHz
VSWR and reflection measurements
Measurements (option dependent)
Channel power, occupied bandwidth and adjacent channel power ratio
Power measurements with USB sensor: 9 kHz to 24 GHz (sensor dependent)
Built-in power meter: 100 kHz to 18 GHz
FieldFox 30-second video introducing real time spectrum analysis (RTSA)
Instantly and Precisely Characterize Transmitter Power
The N9937A FieldFox 18 GHz microwave spectrum analyzer provides industry-leading amplitude accuracy of ±0.5 dB at power-up, with no warm-up required. It can can detect more signals in the band of interest with phase noise of -111 dBc/Hz at 10 kHz offset, and measure low-level signals in the presence of high-power transmitters with spur-free dynamic range of 105 dB.
Get Precise Measurements that Agree with Benchtop Results
The spectrum analyzer's base function is spectrum analysis, and can be configured to include; full-band tracking generator and preamplifier, interference analyzer, VSWR and reflection measurements, built-in power meter, USB power sensor support, GPS receiver and DC bias voltage source.
Rugged Construction
Dust-free design with no fans, no vents extends instrument reliability in harsh environments, water-resistant, MIL-PRF-28800F Class 2 compliant, and MIL-STD-810G, Method 511.5 Procedure I requirements for operation in explosive environments (type tested). Well-suited for: satellite communications, microwave backhaul, Military communications, radar systems, and active and passive device testing.
Includes: AC/DC Adapter, 1 battery, soft carrying case, LAN cable, quick reference guide, user's guide, and three-year warranty.
Alternate Product Number: 
19688.1