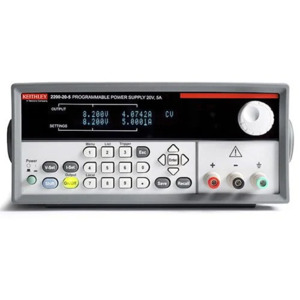 Description

Specifications

Documents
Model 2200-72-1 — 0-72 Volts, 0-1.5 Amps, 86 Watts
0.03% basic voltage output accuracy and 0.05% basic current accuracy provide quality test data
High output and measurement resolution, 1mV and 0.1mA, for testing low power circuits and devices
Remote sensing to ensure the programmed voltage is applied to the load
Dual-line display shows both the programmed values and actual outputs for a continuous indication of the status of the power delivered to the load
Repeatable test sequences of up to 80 output steps are easy to create with the built-in List mode
GPIB and USB interfaces are standard for convenient automated control
Keithley 2200 Series offers five models of DC power supplies with voltage outputs from 20V to 72V to address a wide range of power requirements. These supplies have both front and rear outputs for use on a bench or in a test system. With basic voltage setting accuracy of 0.03% and basic voltage readback accuracy of 0.02%, the voltage you program for the load is the voltage accurately applied at the output terminals. The rear panel connections include remote sense terminals that compensate for voltage drops in the power supply leads.
Get Test Results Quickly
The dual-line display shows both the programmed settings and the actual voltage and current outputs, allowing you to immediately see, understand, and address any differences between the expected and actual output values. Multiple methods can be used to adjust the voltage and current settings. You can use the direct-entry numeric keypad to set precise voltage and current values. There is also a rotary knob with adjustable step size that lets you easily study the response of your DUT to small or large changes in voltage or current.
Protects Your DUT at All Times
A number of features are built into the 2200 Series power supplies to ensure that your DUT is protected from damage. A maximum voltage can be set so that regardless of the voltage value requested, the output will not exceed the programmed limit value. With the numeric keypad, a current limit can be quickly and precisely specified before a test is started. In addition to the limit settings, you can set a timer to turn off the output after a specified time interval, allowing you to setup a test on your bench and let it to run unattended knowing that power will automatically be removed from the DUT after the programmed time has elapsed.
Ensures that Test Parameters are Not Accidentally Changed
Prevent accidental changes to settings to avoid collecting incorrect test data and wasting time repeating tests by taking advantage of the Series 2200's front panel lock-out functions. You can disable the front panel knob or disable all the front panel data entry controls.
Each model includes: CS-1638-12 Rear Panel Mating Connector, Documentation and Driver CD, and a three-year warranty.
Alternate Product Number: 
19905.1