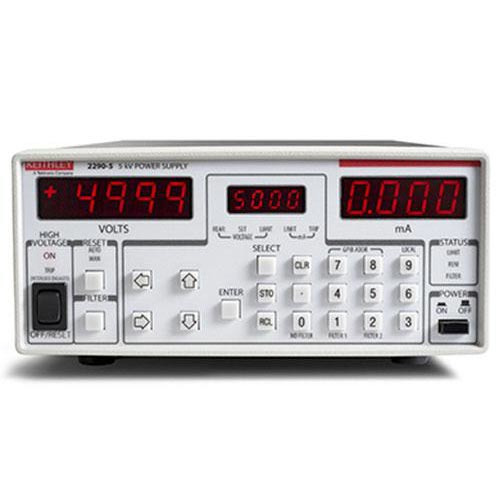 Description

Specifications

Documents
50V to 5kV, 0 to 5mA
1µA current measurement resolution
Low noise for precision sourcing and sensitive measurements; selectable filters reduce noise to less than 3mVRMS on the 5kV supply
Safety interlock controls high voltage output
GPIB Interface
Optional protection module prevents damage to low voltage instrumentation
One-year warranty
High Voltage Test Capability With The Most Current Measurement Sensitivity
Series 2290 High Voltage Power Supplies facilitate high voltage device and material testing, as well as high energy physics experimentation. The Model 2290-5 provides 50V to 5000V at 5mA. These supplies measure both output voltage with 1V resolution and output current with 1μA resolution. In addition to the voltage and current output displays, a third display shows one of four settings: output voltage, voltage limit, current limit, or current trip. These values can be set precisely with the front panel keypad, and can also be programmed over the GPIB interface, or the output voltage can be set with an analog control voltage.
Low Noise Ensures Accurate Low Level Measurements
Low output noise is essential when using sensitive measurement instruments to make leakage current or high resistivity measurements. The maximum output ripple of the Model 2290-5 is 100mVRMS. Two selectable, internal filters on the Model 2290-5 reduce the maximum output ripple to only 3mVRMS. Extremely low noise enables sensitive measurement instruments to make accurate current measurements down to picoamp levels.
Protecting User and Instrumentation
2290-PM-200 Protection Module protect both user and instrumentation from hazardous voltages. An interlock circuit built into the power supplies can be used to ensure that the output voltage is disabled if a high voltage test fixture access door is open. In addition, all Series 2290 power supplies have low voltage analog outputs to permit safe monitoring of the high voltage and the output current.
When low voltage measurement instrumentation is used in the high voltage circuit, the protection module safely clamps the voltage across the instrument to a maximum value of 20V even when a device under test (DUT) breaks down. Thus, a Series 2290 Power Supply, 2290-PM-200 Protection Module, and Keithley accessories provide all the elements for building a safe, high voltage test environment.
Make Precise Current Measurements Lower Than 1μA
Use a sensitive Keithley measurement instrument, such as a Keithley SourceMeter® Source Measure Unit (SMU) instrument, to measure current drawn by the device under test (DUT) that is below the sensitivity of the Series 2290 Power Supplies. Keithley SourceMeter SMU instruments can provide sensitivity as low as 0.1fA. The 2290-PM-200 Protection Module protects the low voltage SourceMeter SMU instrument from high voltages when the DUT breaks down. The leakage current of the protection module limits the measurement resolution to picoamp levels, which is five decades more sensitive than the current measurement resolution of the Series 2290 Power Supplies. Keithley can provide a complete high voltage test capability with the most current measurement sensitivity available anywhere.
Easily Automate a High Voltage Test System
The Series 2290's GPIB interface allows the creation of an automated high voltage test system. Software drivers are supplied to simplify and accelerate test system development. This further enhances safety as the high voltage can be controlled from a remote location.
The 2290 Series power supplies comply with the latest EU standards and are CE-certified. They're most suited for high voltage device breakdown and component testing, insulation testing, high voltage resistivity measurements, and high energy physics research.
Includes: CD with user's manual, software drivers and accessory information, and power cord.
Alternate Product Number: 
21848.1