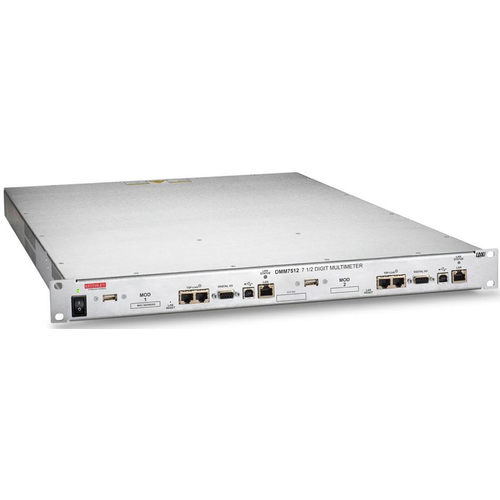 Description

Specifications

Documents
Combine sourcing and measurement with the 2606B High Density, 4-channel Source Measure Unit (SMU) and the DMM7512 for four channels of sourcing and two channels of measurement in as little as 2U of rack space
Sample complex waveforms with the 1Msample/s, 18-bit digitizer; store up to 27.5 million readings
Control up to 32 instruments in a TSP-Link test system
Test components used in low power circuits with 0.1 µΩ and 1 pA sensitivities
Synchronize measurements with a latency under 500 ns
Maximize test quality with high test uncertainty ratios using 1-year accuracy DC volts as good as 14 ppm
Built-in Test Script Processor (TSP®) enables test sequence execution without controller interaction, reducing test time and communication overhead, while availing the controller for other tasks
No extra spacing for thermal management is required between either DMM7512s or 2606Bs
DMM7512 TSP code is compatible with DMM7510 TSP code
One-year warranty
Two DMM7510s built into one compact enclosure
The DMM7512 consists of two, independent, identical Keithley 7-1/2 digit DMM7510 digital multimeters with a few fewer measurement functions. The two DMM7512 DMMs have the same accuracy, sensitivity, and speed as the DMM7510 so that the DMM7512 can be seamlessly integrated into a test system that previously used DMM7510s.
1U high, full rack wide form factor chassis
Compared to two 2U high DMM7510s, you can get twice the measurement capability in half the space. The compact chassis saves rack space in high-instrument density test systems without compromising measurement performance. Each DMM has identical functionality, and they are entirely independent of each other.
Virtual Front Panel for Test Setup or Manual Measurements
Even though the DMM7512 does not have a front panel display, the instrument has a built-in web browser with a virtual front panel. Through a LAN interface connection, the virtual front panel can be displayed on a PC monitor. With the virtual front panel, each DMM of the DMM7512 can be controlled using either the PC touchscreen display or mouse and keyboard controls. All the functionality of each DMM can be accessed through the virtual front panel. Thus manual operation and test setup can be performed as easily as if the instrument had a physical front panel.
Significantly reduce test time
The two DMMs in each DMM7512 have built-in intelligence to execute test programs without PC interaction using its Test Script Processor (TSP®) Technology. In addition, each DMM features a TSP-Link® hardware interface so that one instrument can control other instruments in a master-subordinate configuration.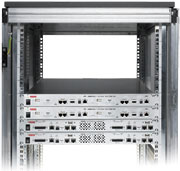 Double test system density
Save valuable rack space with two DMMs in a 1U high rack space. Compared to two 2U high DMM7510s, you can get twice the measurement capability in half the space.
Highlights:
Combine sourcing and measurement with the 2606B High Density, 4-channel Source Measure Unit (SMU) and the DMM7512 for four channels of sourcing and two channels of measurement in as little as 2U of rack space
No extra spacing for thermal management is required between either DMM7512s or 2606Bs
DMM7512 Expansion Interface
The TSP-Link expansion interface allows TSP-enabled instruments to trigger and communicate with each other.

Once instruments are interconnected through the TSP-Link expansion interface, a computer can access all of the resources of each source measure instrument through the host interface of any TSP-Link instrument
A maximum of 32 TSP-Link nodes can be interconnected. Each source-measure module uses one TSP-Link node
The DMM7512 has four TSP-Link connectors (two on each module) to make it easier to connect instruments in a sequence.
Included with DMM7512: four (4) 012-1781-00 Test Lead Kits, two (2) CA-18-16A 40 cm (16") LAN Crossover Cables, 174-7107-00 1.5 m (5 ft) Shielded Crossover Cable with RJ-45 Connector, CA-568-120A 3.0 m (120 in) Green and Yellow Ground Cable, 4299-13 1U High Fixed Rack Mount Kit, Safety Precautions Document and DMM7512 Instrument Information.
Alternate Product Number: 
1901071615543745