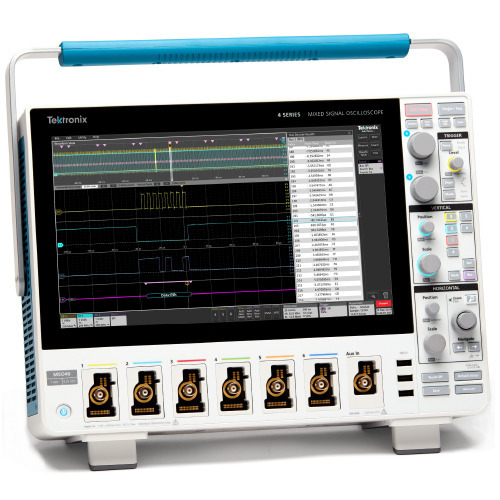 Description

Specifications

Documents
Key Features of the 4 Series MSO Mixed-Signal Oscilloscopes
13.3" HD (1920x1080) touchscreen
Up to 6 FlexChannel inputs for analog and digital channels
6.25 GS/s Sampling Rate on all analog/digital channels
31.25 Mpoints Record Length (standard) or 62.5 Mpoints (optional)
1 GHz passive probes standard on 1 GHz and 1.5 GHz models
Optional advanced analysis: Spectrum View or Power Analysis
Models MSO44 & MS046 available
See data sheet for available measurement and analysis options
Series 4 MSO Overview
With the largest display and highest channel count in its class, the 4 Series offers unprecedented insight in a bench-friendly package. And its made-for-touch user interface provides extreme visibility and versatility, making for a delightful overall user experience.
FlexChannel technology enables maximum flexibility and broader system visibility. The 4 Series MSO redefines what a Mixed Signal Oscilloscope (MSO) should be. FlexChannel technology enables each channel input to be used as a single analog channel, eight digital logic inputs (with the TLP058 logic probe), or simultaneous analog and optional spectrum views with independent acquisition controls for each domain. Imagine the flexibility and configurability this provides.
Previous-generation MSOs required tradeoffs, with digital channels having lower sample rates or shorter record lengths than analog channels. The 4 Series MSO offers a new level of integration of digital channels. Digital channels share the same high sample rate (up to 6.25 GS/s), and long record length of 31.25 Mpoints (optional to 62.5 Mpoints) for analog channels.
Let no detail go unseen with true 12-bit A/Ds. Capture even the smallest detail with superior vertical resolution. Get the big picture with a 13.3" HD capacitive touch display and award-winning intuitive user interface.
Includes: Four TPP Series passive probes.
Alternate Product Number: 
28851.1