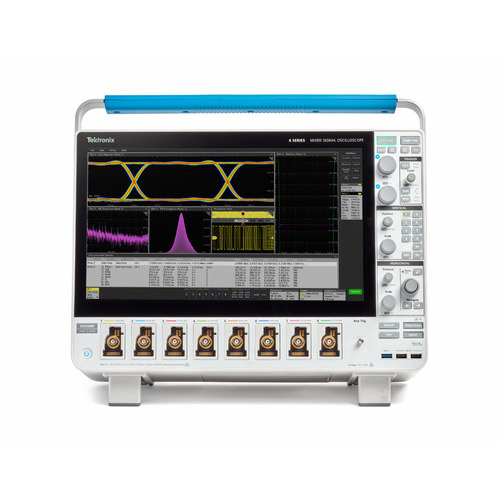 Description

Specifications

Documents
MSO68B Features
Bandwidth: 2.5GHz
Channels: 8
Vertical Resolution: 12-bits
Record Length: 62.5 M (standard)
Warranty: 1-year
Included: Certificate of Traceable Calibration Standard

Key Benefits of the 6 Series B MSO Mixed Signal Oscilloscopes
12-bit ADCs and low-noise preamps for accurate measurements
4, 6, or 8 inputs. Each FlexChannel™ input can be used as 8 digital channels for added visibility
Intuitive user interface with 15.6" HD touch display
TekVPITM probe interfaces support a wide range of probes
Powerful built-in measurements, statistics and trend plots
Application-specific measurements and automated testing
Optional built-in arbitrary/function generator
DVM and frequency counter free with registration
Optional Windows operating system
Upgradeable bandwidth, record length, and instrument options
More bandwidth. More channels. Less noise.
The best signal fidelity, 12-bit ADCs, up to 10 GHz bandwidth, and up to 8 FlexChannel inputs enabling you to confidently analyze and debug today's embedded systems with gigahertz clock and bus speeds, while enjoying extraordinary convenience and user experience.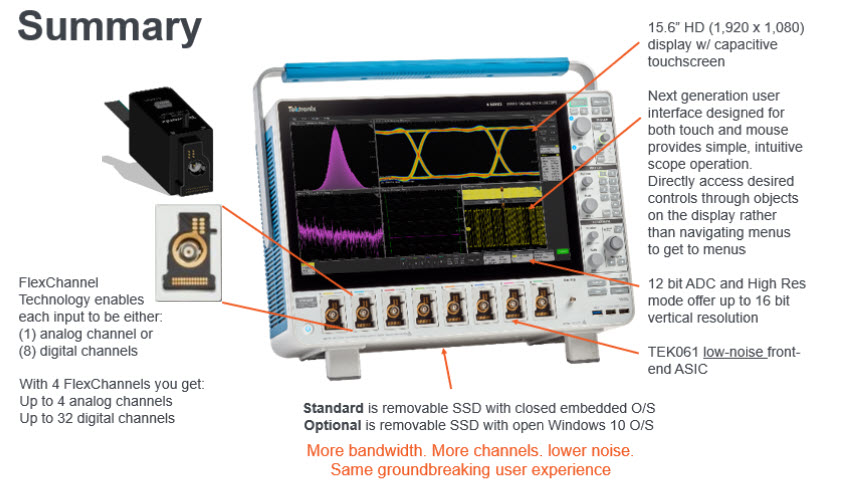 Industry Leading Noise Performance
75% reduction in noise from the 5 Series MSO at 1mV/div
NEW 50 GS/s interleave on two channels provides ~2dB noise improvement at ≥20mV/div
Industry Firsts!
4, 6 and 8 channel product family above 2 GHz
User Selectable Operating System
Standard configuration is a removable SSD with a closed embedded operating system installed behind an access panel on the bottom of the instrument.
An optional SSD with a Windows 10 license can be installed behind an access panel on the bottom of the instrument.
When a Windows 10 SSD is installed:
You can minimize the scope app and get to a Windows desktop
You can install and run other applications on the scope
You can attach a second monitor and extend your desktop
Regardless of OS, the scope user interface runs exactly the same.
Upgrade at any time
Protocol and Analysis Options
Serial Bus Trigger and Analysis
Advanced Jitter Analysis
Advanced Power Analysis and Digital Power Measurements
Serial Compliance Test
Memory Analysis
Debug Test
Bandwidth Upgrades
2.5 GHz
4 GHz
6 GHz
8 GHz
10 GHz
Digital Voltmeter / Trigger Frequency Counter
Free with product registration
Windows 10 Upgrade
Add solid state drive with Windows 10 license
Function Generator Upgrade
Arbitrary / Function Generator
Add TLP058 Logic Probes
Access 8 digital channels on any FlexChannel input
Increase Record Length
Increase to 125 Mpts / channel
Increase to 250 Mpts / channel
Increase to 500 Mpts / channel
Increase to 1 Gpts / channel
Other Options Available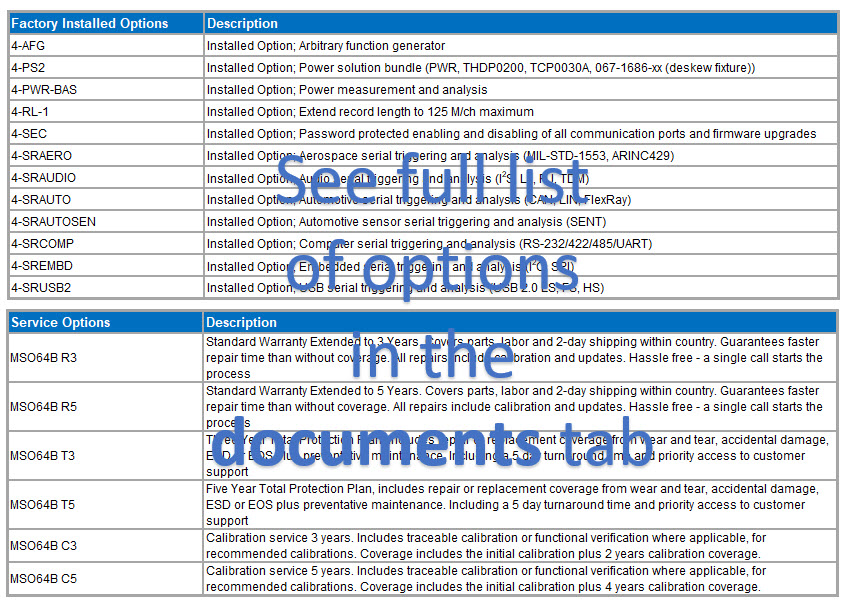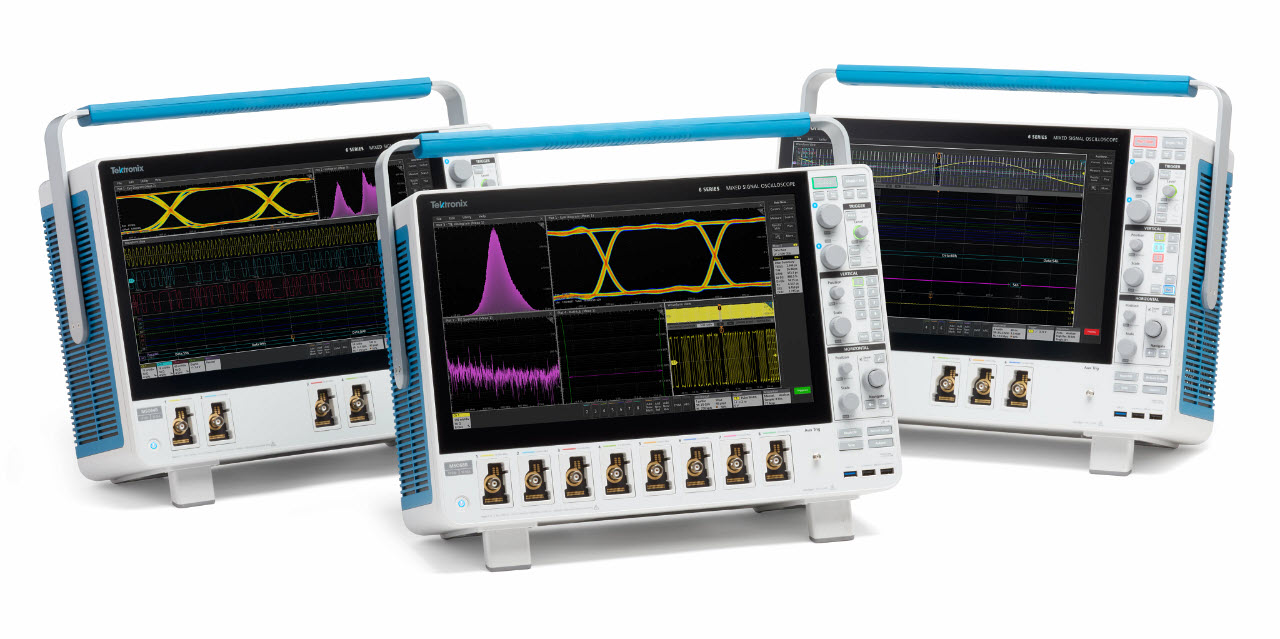 Tektronix MSO68B Series, enabling unprecedented flexibility and adaptability to debug the task at hand.
CLICK HERE to view the 6 Series B MSO Family Page
Alternate Product Number: 
31794.1