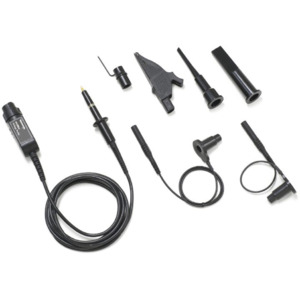 Description

Specifications

Documents
P5150 High Voltage Probe
Features:
Attenuation: 50X
Dynamic Range: 2500 V peak | 1000 V CAT II
Bandwidth: 500 MHz
Rise Time: < 700 ps
Input Impedance (Probe Tip): 40 Megohms, 3.8 pF
Cable Length: 2 meters
Safety: UL61010-031, EN61010-031, IEC61010-031, CSA61010-031
Included:
Large hook tip
Small hook tip
6 in. ground lead
18 in. ground lead
Common spring
Crocodile clip
Color bands
Adjustment tool
Instruction manual
The P5150, which replaces the P5120, is a high voltage single-ended probe suitable for floating measurements when used with the TPS2000 Series. The P5150 has 50X attenuation, and it allows the user to measure a higher voltage range on the TPS2000 series oscilloscope compared to the P5120 probe that had 20x attenuation. The P5150 has increased bandwidth, better loading characteristics, and improved measurement repeatability.
When coupled with the TPS2000 Series digital storage oscilloscopes,the P5150 delivers both the isolation for the measurement from earth ground and full isolation between the channels. The P5150 is the recommended probe for measuring ripple on high-voltage DC supplies.
Alternate Product Number: 
19302.1