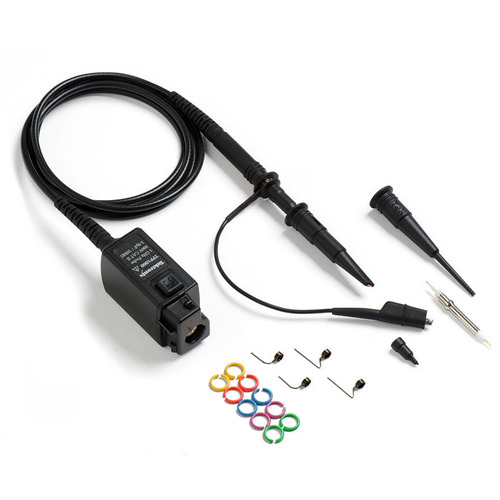 Description

Specifications

Documents
TPP0200 Passive 10X Voltage Probe
Features:
500 MHz
10X
10 Megohm, < 4 pF
TekVPI Probe Interface
Cable length 1.3 m
300 V CAT II Input Voltage
Designed for use with Tektronix MDO3000, MDO4000, MSO/DPO5000, and 5 Series MSO Series oscilloscopes
Accessories:
Rigid Tip - 1
Pogo Tip (pre-installed on probe) - 1
Short ground spring - 2
Long ground spring - 2
Alligator ground 6 in. - 1
Hook tip (regular) - 1
Hook tip (micro) - 1
IC cap 3.8 mm - 1
Insulator sleeve - 1
Color bands - 5 pair
The TPP0500B Passive Voltage Probe has 500 MHz of analog bandwidth, and less than 4 pF of capacitive loading. The extremely low-capacitive loading minimizes adverse affects on your circuits and is more forgiving of longer ground leads. And with the probe's wide bandwidth, you can see the high-frequency components in your signal, which is critical for high-speed applications.

The TPP Series passive voltage probes offer all the benefits of general-purpose probes like high dynamic range, flexible connection options, and robust mechanical design, while providing the performance of active probes.
Alternate Product Number: 
18808.4