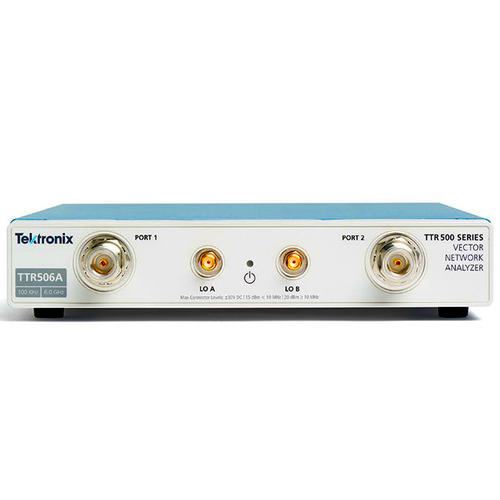 Description

Specifications

Documents
TTR503A: 100 kHz to 3 GHz
Function: 2-port, 2-path S-parameter test set; Type-N Female test ports
System Dynamic Range: 125 dB (200 MHz to 3 GHz)
IF BW: 1 Hz to 500 kHz
Trace Noise: 0.006 rms dB, typical
Stability: 0.008 dB/°C (300 kHz to 3 GHz)
Source Power: -50 to +7 dBm
Sweep Type: Linear, log
Number of Points: 1 to 20001
Traces: Up to 16 traces
Markers: Up to 9 Markers
RoHS Compliant
Bias tee: Internal on both ports
Measure passive/active components and RF modules, test cables/adapters, etc.
Three-year warranty
PC-Controlled, USB 2.0 Instrument
The Tektronix TTR503A Vector Network Analyzers (VNA) provide fully error-corrected network analysis from 100 kHz to 3 GHz in a low-cost, compact package that is ideal for the classroom, laboratory or factory environments. It is USB controlled and come with software that operates on a PC running Microsoft Windows, allowing for seamless integration into your existing workflow with easily-networked USB PC hosts.
Full-featured, 2-port, 2-path VNAs to 6 GHz
Make complete S-parameter measurements on your active and passive devices. 120 dB Dynamic Range ensures thorough characterization of your DUT.
A breakthrough in vector network analysis
TTR503A VNAs offer full featured network analysis in a compact package. These TTR500 series VNAs place all of the RF electronics needed to perform VNA measurements in a compact S-parameter test set that is connected to a standard Windows computer via USB. VectorVu-PC™ SW provides an intuitive user interface with buttons and controls that are familiar to VNA users. Remote programming is done via a SCPI command set compatible with legacy models.
Alternate Product Number: 
25858.1