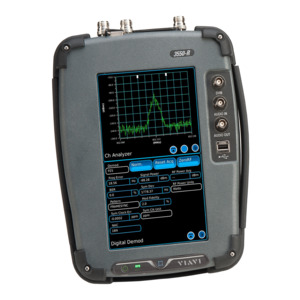 Description

Specifications

Documents
Touch-Screen Radio Test System
VIAVI's expertise in developing radio communications test sets with exclusive features and excellent return on investment put the 3550R at the front of affordable, high performance RF analysis. Designed for speed, the 3550R features a complete radio test system with an advanced touch-screen that simplifies cable and antenna testing.
Next Generation Touch-Screen Operation
The 3550R, with its resistive touch-screen, will meet the needs of users that require the test set to operate under all conditions, whether on the bench or in the field. Perfect for cold or wet weather applications, the 3550R also features a wider operating range of -20o C to +55o C and MILPRF28800F Class 2 specification for toughness required for extreme conditions.
Complete RF Transmitter Testing
With integrated RF power, RSSI, frequency error and modulation meters, the 3550R provides complete analysis of AM, FM, P25, DMR (MOTOTRBO), dPMR, NXDN and ARIB T98 radio systems.
VIAVI's exclusive "Freq-Flex" external frequency reference allows you to use any external reference from 2 MHz to 1 GHz to calibrate the 3550R's time base. Simply connect a known good RF source to the 3550R antenna or T/R port and the 3550R time base is frequency corrected to the reference signal for superaccurate RF frequency measurements. Once calibrated, the 3550R can then be taken out and used for hours "un-tethered" to the reference oscillator.
With typical power accuracy of 0.5 dB, and with external cable path loss correction, the 3550R provides superior power measurements for results you can count on.
FM deviation analysis with accuracy of 4% (typical) and 0.0 dB flatness provides deviation measurements you can trust for FM and digital technologies using FSK modulations. Flatness of the deviation meter is important when aligning radios to ensure proper digital operation.
Complete RF Receiver Testing
With a fully integrated, multi function RF generator and SINAD, Distortion and BER meters, the 3550R allows for simplified and accurate receiver sensitivity testing. Full function audio routing allows the 3550R to perform proven Analog SINAD and DISTORTION testing down to -125 dBm. Plus, digital bit pattern sequences provide the digital RF generator needed to perform digital BER sensitivity testing for DMR (MOTOTRBO), dPMR, P25 and NXDN systems.