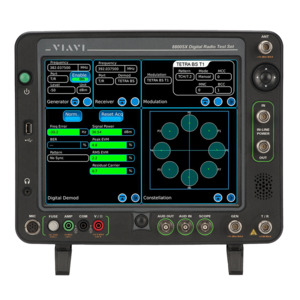 Description

Specifications

Documents
Advanced Analog and Digital Radio Test Set for Bench and Field Environments
The 8800SX combines the performance and features of a bench-level test set with the portability and ruggedness of a field-level instrument. Weighing only 17 lbs (7.71 kg), an internal battery with 2.5+ hours of operation, and rugged 30 G shock rating, now test professionals will no longer compromise portability for critical test features. Advanced features ranging from automated test and alignment to digital modulation analysis plots to an internal 500 W (4% accuracy) in-line power meter are all available within a one-box solution.
Unprecedented Display Size and Easy to Use Interface
The 8800SX is designed for maximum test efficiency. With the industry's largest display, ultra-fast store and recall "Presets", and its unique "Fast-Stack" user interface that allows test tiles to be stacked on one another and quickly accessed, test professionals can set up analog and digital tests in seconds and have instant access to more displayed meters and test functions.
Complete Digital and Analog Test Suite
The global land mobile radio (LMR) market is rapidly transitioning from analog to digital. Therefore, test instrumentation must test both legacy analog systems as well as the new emerging digital standards. The 8800SX is designed with advanced frequency, power, and modulation analysis instruments for both analog and digital systems.
Expanded Channel Analyser with Markers
The channel analyser offers a unique expanded display mode, which dedicates the entire screen to the analyser. Combining the expanded mode with the industry's largest colour display provides test professionals with an easy-to-see spectrum display; regardless of the test distance.
The channel analyser now sweeps approximate four times per second and offers up to six colour markers for identifying signals and interference. An on-screen marker table provides users with instant frequency, level, and delta information on monitored signals.