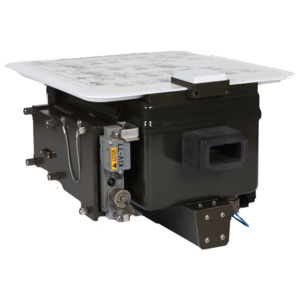 Description

Specifications

Documents
APM-424 MK XII/XIIA Flight Line Test Sets
The VIAVI APM-424(V)5 easily accommodates a variety of aircraft, ground, and ship platforms to test transponder and interrogator performance. The APM-424(V)5 is a Mode 5 and ADS-B performance and capability upgrade to the TS-4530 and APM424 legacy test sets. The unit closely replicates legacy operation for utilisation of existing procedures, making the APM-424(V)5 a cost effective, highly accurate upgrade to fielded test sets.
The APM-424 is offered in two standard configurations:
APM-424(V)4 MK XII Test Set
APM-424(V)5 MK XIIA Test Set
The APM-424(V)5 supports both DoD AIMS 04-900A Option A (KIV-78) and Option B (KIV-77) crypto appliqués.
APM-424 MK XII/XIIA Key Features
DoD AIMS 03-1000A (Change Notes 1,2,3) Mark XIIA certified
Supports DoD AIMS 04-900A Option A - KIV-78 and Option B - KIV-77, & SIT-2010 crypto appliqués.
Transponder Test Modes 1,2,3/A, C, S (EHS/ELS), 4, Mode 5 (Level 1 and 2)
Interrogator Test Modes 1, 2, 3/A, C, S, 4, Mode 5, TCAS, ETCAS (Level 1 and 2)
DO-260B compliant; ADS-B Out test capability
Benefits
Accurate GPS time/date acquisition (via GPS antenna, crypto or manually)
Hand-held and battery powered
One piece, 3-button point and shoot Go/No-Go operation
Self-diagnostic
Parametric test results can be stored for downloading to a PC for review or maintenance logging
Applications
Mode 5 TX/RX pulse measurement
Mode 5 squitter data
Mode 5 data acquisition formats 0-23
TS-4542 Shipboard Interrogator test capability
ADS-B Out testing
KIV-77 & SIT-2010 support
KIV-78 support