VIAVI AVX-10K Flight Line Test Set
Introducing AVX-10K: Your All-in-One Flight Line Test Solution

As the IFR4000 and IFR6000 legacy comes to a close by December 31, 2023, the AVX-10K takes centre stage, revolutionising avionics testing for fixed-wing, rotary, and UAV aircraft. Combining the best of its predecessors into a single, modular device, the AVX-10K offers unparalleled testing capabilities.


AVX-10K: ELEVATING AVIATION WITH 6 BENEFITS
Single Device, Multiple Capabilities
1. Test communications, navigation, and surveillance systems with one comprehensive device.
2. Minimise instrument purchases, calibrations, storage, and shipping logistics.
Remote Control Efficiency
1. Connect via over-the-air methods, including the free VIAVI Mobile Tech app.
2. Conduct testing from the cockpit, enabling a single technician to replace the traditional two, saving valuable man hours.
User-Friendly Interface
1. Intuitive GUI for rapid technician learning and increased productivity.
2. Access testing templates and on-screen pass/fail indications for streamlined operations.
Global Troubleshooting Support
1. Utilise Smart Access Anywhere for remote expert assistance from anywhere in the world.
2. Enhance troubleshooting efficiency and reduce downtime.
Configurations and Templates
1. Built-in templates for different aircraft configurations.
2. Save time and effort by accessing personalised templates, ideal for shared instruments.
Cloud Integration for Enhanced Management
1. Seamlessly integrate with VIAVI StrataSync for efficient test data and asset management.
2. Ensure the AVX-10K is always up-to-date with the latest software and firmware for optimal performance.
THE AVX-10K COMES IN 4 PRE-CONFIGURED KITS, PICK THE TEST KITS THAT YOU NEED

AVX-10K-FLTS
Flight Line Test Set only configuration – allows customer to pick and choose what hardware and software options desired.
AVX-10K-NAV
Communication, Navigation package includes the NAV/COMM software options shown and all NAV/COMM required hardware. This package is comparable to the IFR4000.
AVX-10K-SVLC
Surveillance package includes Transponder, ADS-B and DME software options and all required hardware like the IFR6000.
AVX-10K-CNS
Communication, Navigation & Surveillance configuration. Includes options for comparable functions to the IFR4000 & IFR6000. (TCAS, UAT and ELT are optional).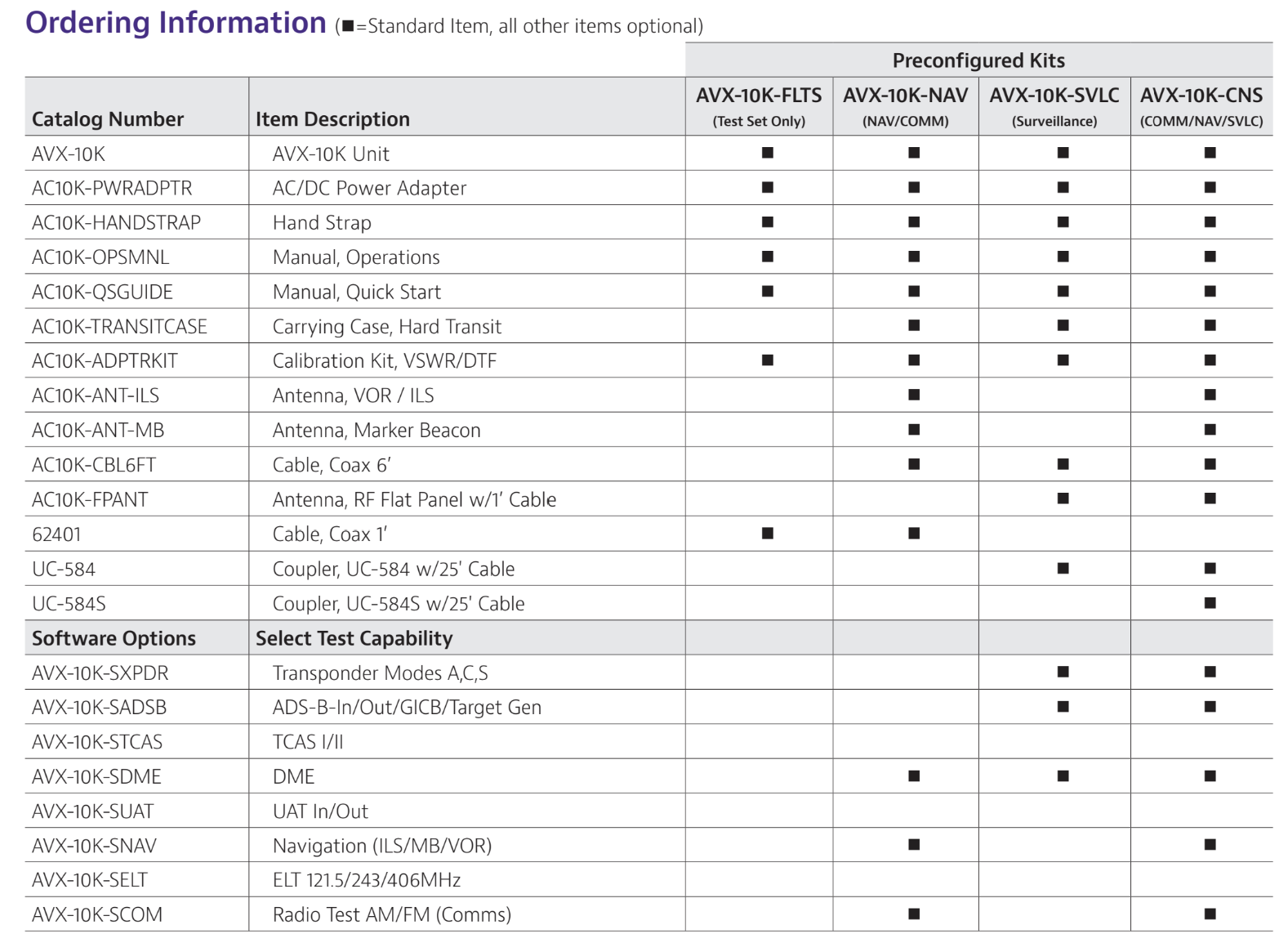 AVX-10K Flight Line Test Set Brochure
AVX-10K Flight Line Test Set Datasheet
HOW DOES AVX-10K-CNS COMPARE TO THE PREDESSORS IFR6000 & IFR4000?

AVX-10K-CNS (All in one solution)
IFR6000 - Discontinued 31st December 
IFR4000 - Discontinued 31st December 
Features
• Communication - AM/FM/SELCAL
• Navigation- VOR/DME/ILS
• Surveillance- XPDR/ADS-B/UAT/TCAS
• Test Tools- VSWR/DTF
• Mobile Tech App 
• StrataSyncy 
• Built-in GPS Receiver

Features
• Transponder Auto Test (DO-181E)
• Automated ADS-B performance testing and reporting
• Monitor and decode– ADS-B (DO-260A/B)– AC 20-165B surface/air auto test– UAT
• Target generator– ADS-B 1090 MHz(DO-260A/B surface and air)– UAT 978 MHz (ADS-B, TIS-B, FIS-B)
• Comprehensive GICB testy DME ground station simulation
 • UUT parametric tests
• User programmable TCAS scenarios
• Altitude encoder
• Over-the-air, direct, or coupled testing
Features
• Morse code provides 1-4 characters transmitted in the VOR and ILS localizer mode
• Generation of ARINC 596 Selective Calling Tones
• Simulation of Localizer and Glideslope (CAT I, II, and III) Signals with variable DDM settings
• Accurate measurement of VHF/UHF antenna and or feeder SWR (Standing Wave Ratio)
 • Simulation of marker beacon, selectable outer, middle, and inner marker tones
Benefits
• Comprehensive, configurable test solution 
• ADS-B/ADS-R/TIS-B Traffic and ELT
• Troubleshooting and fault location
• Remote testing in and around the aircraft
• Technical and supporting documentation at your fingertips
• Android™ and iOS® compatible
• Asset and report management
• Accurate testing of ADS-B positional data
Benefits
• Battery operation 6 hours plus
• Provides a full FAR Part 43, Appendix F test
• Verification of ADS-B/UAT installed systems
• Avoid ATC interference with optional coupler
• Data dump of transponder test results to PC
 • Software updates available via website
Benefit
• Battery operation 8 hours plus
• Guided test capability reduces total test time
• Low cost ELT option
• Software updates downloaded via website
 • Frequency counter provides external frequency

Cost of Ownership Savings


All-in-one test solution provides cost savings in 
•  Reduction of the number of assets to maintain
•  Reduced calibration costs, including storage, tracking, and shipping 
•  Extended warranty options including quick turn around time and loaner test sets
•  Software defined standard platform for adding future test applications
Aircraft return-to-service efficiency improvements
•  Single comprehensive kit consisting of all hardware necessary to test multiple avionics systems
•  Remote operation using the free VIAVI Mobile Tech app allows a single technician to test what previously required two technicians
•  Use of templates provides consistency in testing with a known starting point for all test types
Asset and Report Management from StrataSync
Asset Management
• Always be current with the latest software updates
• Manage all your assets in one location 
• Share system test templates and unit configurations among test sets and locations
Report Management
• Sync and upload all test data for transfer to your server
• Provides detailed information of an aircraft's historical performance used in the creation of preventative maintenance plans