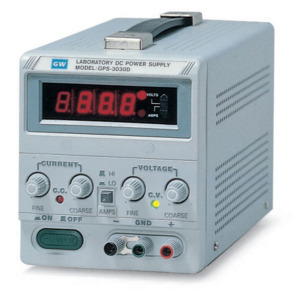 £198.07
EACH
(Inc. VAT 20%)
Description

Specifications

Documents
90W DC Linear Power Supply 0-30V, 0-3A DIGITAL Display
0-3A DIGITAL
Light and Compact Design
0.01% High Regulation
Constant Voltage and Constant Current Operation
Remote Control for External Programmability
Internal Select for Continuous or Dynamic Load
Low Ripple and Noise
Overload and Reverse Polarity Protection
Series or Parallel Operation
The GPS-Series includes both analog and digital display meters with varying power outputs.
Features overload and reverse polarity protection as well as high regulation and low ripple/noise that are maintained at 0.01% and < 1mVrms, respectively.
Continuous or dynamic internal load selection accommodates applications such as pulsed current. Remote control terminals offer programming and operation from an external device.
The regulated DC power supply has been designed to provide the most often required in the laboratory, schools, and production lines. The output voltage is continuously adjustable between 0 to rating voltage in one range by means of a coarse and fine potentiometer, the load current may have any value from 0 to rating current and adjusted by means of a coarse and fine potentiometer. Both outputs can accurately read in voltmeter and ammeter.
Both stability and ripple are extremely good to meet the requirements of modern circuit design. The unit can be used as either a constant voltage or a current source.
For applications when output greater than V or A is a need, the unit can be connected up in a series or parallel.
For applications in audio production lines, the continuous or dynamic load internal selectable.
In The Box
User Manual X 1
Power Cord X 1
GTL-105*1 (≤3A) or GTL-104*1(≤10A)
European Test Lead GTL-203*1 (≤3A) or GTL-204*1(≤10A)
Number of Outputs: 
Single Output
Voltage Range Selector: 
2) 30-49.9
Current Range Selector: 
1) 2.5-4.9
Input Voltage: 
100-240 VAC
Power Range Selector: 
0) 1-199
Special Features: 
Optional European Type Jack Terminal
£198.07
EACH
(Inc. VAT 20%)