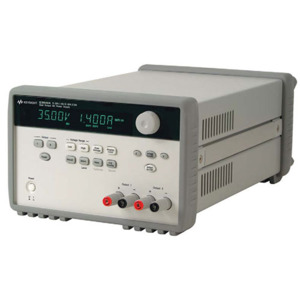 £1,875.60
EACH
(Inc. VAT 20%)
Description

Specifications

Documents
Dual Output
Dual Output Ranges, Two 0 to 8 V / 5 A or 0 to 20 V / 2.5 A
100 Watts Output Power
Constant Voltage, Constant Current
Front and Rear Output Terminals
Overvoltage Protection
Remote Sense
GPIB and RS-232 Included
Great Performance, Outstanding Price
Keysight E364xA-series of programmable DC power supplies provide great performance at a great price. All models deliver clean power, dependable regulation, fast transient response and built-in GPIB and RS-232 interfaces. They're designed to meet the needs of R&D design verification, production testing, QA verifications and other demanding applications with Keysight Technologies quality and reliability.
Steady Output
With 0.01% load and line regulation, Keysight E364xA power supplies keep output steady when power line and load changes occur. Low normal mode noise assures clean power for precision circuitry applications, and the low common mode current provides isolation from power line current injection. Keysight E364xA power supplies have <90 ms of voltage settling time for any output load condition.
Remote Interface
Keysight E364xA power supplies support any PC with a GPIB (IEEE-488) card or RS-232 interface. Every model ships standard with both GPIB and RS-232. Easy-to-use SCPI (Standard Commands for Programmable Instruments) keeps programming fast and simple. The user manual provides information for beginning programmers, yet includes enough detail to help veteran programmers as well.
Broad Support
VXI plug&play software drivers are available for Keysight VEE and National Instruments LabView and LabWindows, simplifying integration of the E364xA into your test system.
Front Panel Operation
An easy-to-use rotary knob and self-guiding keypads allow you to quickly and easily set output at the resolution you need. Voltage and current levels can be set to a maximum resolution of 10 mV/1 mA from the front panel. Up to five complete power supply setups can be stored and recalled from the internal non-volatile memory. The output on/off button sets the output to zero. Dual output models allow two voltages or currents to be displayed simultaneously.
Versatile Power
Keysight E364xA power supplies give you the flexibility to select from dual output ranges. Output load is protected against overvoltage, which is easily monitored and adjusted from the front panel and remote interface. Remote sensing is available in the rear terminal to eliminate errors due to voltage drops on the load leads. These power supplies offer new versatile binding posts on the front panel and screw-type terminals on the rear panel. New front panel binding posts allow you to use safety test leads as well as conventional banana clips and stripped wires. An optional rackmount kit is available. The Keysight E364xA series employs a cooling fan with automatic speed control for reduced acoustic noise.
Includes users guide, quick reference guide and AC power cord. Three year warranty.
Number of Outputs: 
Dual Output
Output Voltage: 
35V x 2, 60V x 2
Output Current: 
2.5A x 2, 5A x 2
Input Voltage: 
100/115 VAC
Special Features: 
Remote Sense
£1,875.60
EACH
(Inc. VAT 20%)