Description

Specifications

Documents
GPIB and RS-232 control of current, voltage and resistance GPIB and RS-232 readback of current, voltage, and power Built-in pulse waveform generation with programmable amplitude, frequency, duty cycle and slew rate Full protection from over-current, over-voltage, over-power, over-temperature, and reverse polarity Electronic calibration Trigger for external synchronization Parallel units in constant current mode for higher power VXI plug&play drivers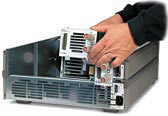 The Keysight N3300A electronic load mainframe accepts user-installable Keysight load modules for easy system configuration and future reconfiguration. The N3300A holds up to six N3302A, N3303A, and N3304A load modules, or three N3305A and N3306A load modules, allowing up to 1,800 watts of total maximum power. One GPIB address is all you need for complete control and readback of all load modules within a single mainframe. The N3300A Series of dc electronic loads provides the fast operation and accurate programming and readback needed for high-volume dc power supply test systems.
The Keysight N3300A mainframe has six slots. The 150 watt, 250 watt, and 300 watt modules require one slot each. The 500 watt and 600 watt modules require two slots each. Any combination of modules can be used, up to using the full six slots. The half-rack width mainframe, the Keysight N3301A, has two slots.
N3302A
N3303A
N3304A
N3305A
N3306A
N3307A
Amperes
0 to 30 A
0 to 10 A
0 to 60 A
0 to 60 A
0 to 120 A
0 to 30 A
Volts*
2 to 60 V
2 to 240 V
2 to 60 V
2 to 150 V
2 to 60 V
2 to 150 V
Max Power
150 W
250 W
300 W
500 W
600 W
250 W
# of Slots
One
One
One
Two
Two
One
*Note: Minimum voltage for full current is 2 V (1.2 V typical).

Keysight BenchVue Software for the PC
This free software option from Keysight offers engineers and technicians involved in design and validation an easy and intuitive way to accelerate testing with no programming necessary. Multiple instrument measurement visibility and data capture improves the way users interact with their instruments and the entire bench. BenchVue provides easy viewing, capturing and exporting of data and screen shots. Visit the BenchVue Product Page for more information including instrument compatibility.
A BenchVue software license (BV0012B) is now included with your instrument. BenchVue makes it simple to connect, control instruments, and automate test sequences.