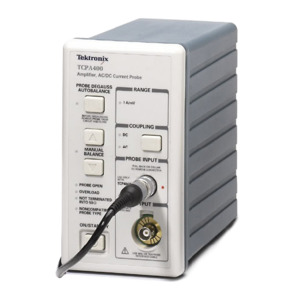 £4,116.00
EACH
(Inc. VAT 20%)
Description

Specifications

Documents
TCPA400 Current Probe Amplifier, DC to 50 MHz
The TCPA400 is ideal for applications in development and analysis solutions for designers, installers, and service personnel in telecom, data comm, computer, and semiconductor power electronics environments. For higher current levels, the TCPA400 amplifier with the TCP404XL current probe measures 500 A DC continuous and 750 A DC continuous, derated with duty cycle.
Highlights:
Automatic scaling and units - Oscilloscope on-screen readout of magnitude and amps reduces measurement errors with no more hand calculations
AC/DC input coupling
Low insertion impedance reduces device under test loading
Split-core construction allows easy circuit connection
Status indicators provide visual operating status and notification of potential error conditions - degauss, probe open, overload, not terminated into 50 ohms, noncompatible probe type
Low DC drift and noise allows improved low-level current measurements
3rd party safety certification


Pair TCP400 amplifier with TCP404XL** current probe for DC - 2 MHz, 750 A DC* (500 A DC Continuous) *Derated with duty cycle
TCPA400 Current Probe Amplifier Includes: AC/DC current probe amplifier, compliance and safety instructions, TEKPROBE interface cable, certificate of traceable calibration.
Tektronix TCP300 and TCP400 Series AC/DC current measurement family is a highly advanced current measurement system for today's current measurement needs. When connected to Tektronix oscilloscopes with TEKPROBE Level II, TekConnect (with TCA-BNC), or TekVPI (with TPA-BNC) interfaces, current measurements and calculations are simple and easy.
**Probe not included with amplifier.
£4,116.00
EACH
(Inc. VAT 20%)