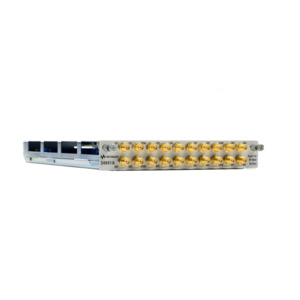 £2,488.80
EACH
(Inc. VAT 20%)
Description

Specifications

Documents
34941A Quad 1x4 50 Ohm 3 GHz Multiplexer Module for 34980A
Quad 4-channel multiplexers
DC to 3 GHz, 50 Ohm
High isolation, low VSWR
30V, 0.5A, 10W switching
SMA connectors
Keysight 34941A RF multiplexer module for the 34980A Multifunction Switch/Measure Unit offers bi-directional switching for test signals from DC to 3 GHz. High channel isolation ensures quality dynamic range measurements with your oscilloscope, spectrum analyzer, or other instrumentation.

The RF multiplexers are configured as four independent 1x4 RF multiplexers on a single module. Individual multiplexers are isolated from each other and the Mainframe chassis to prevent ground loops. Multiple banks can be cascaded together to create an even large multiplexer - up to 97 cascaded RF channels in a single 34980A mainframe.
Requires standard 50 ohm SMA RF cables, adapters.
£2,488.80
EACH
(Inc. VAT 20%)