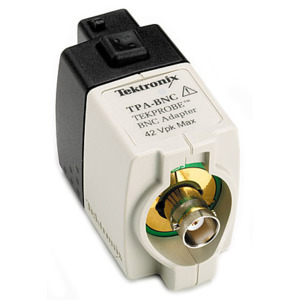 £844.80
EACH
(Inc. VAT 20%)
Description

Specifications

Documents
TPA-BNC TekVPI-BNC Interface Adapter
Characteristics:
Bandwidth - DC to >3 GHz.
VSWR - < 1.23:1 up to 3 GHz.
RF Insertion Loss - < 0.25 dB.
Delay Time - 245 ps.
Maximum Input Signal Voltage - 42 Vpk-pk, 30 VRMS, 60 VDC
Highlights:
Enables Existing TekProbe Products to Connect to Oscilloscopes with the TekVPI Probe Interface
An Easy-to-use Plug-in Adapter to the Oscilloscope's TekVPI Interface
Provides Necessary Power, Communication, and Offset Control as Needed by the Attached TekProbe Product
Provides Overcurrent and Thermal Overload Protection for the Attached TekProbe Product
Provides an LED Probe Status Indicator which Identifies that the Probe has Powered-up Successfully
1-year parts and labor warranty
TPA-BNC Adapter enables existing TekProbe interface products (active, differential, high-voltage, current, and optical probes) to be used with the newest generation of Tektronix oscilloscopes which feature the TekVPI probe interface architecture. Existing TekProbe-BNC probe types simply plug into the TPA-BNC adapter which is then plugged directly into any channel of an oscilloscope equipped with the TekVPI probe interface. The TPA-BNC adapter recognizes and supplies the necessary power and serial communication and offset control as used by the connected TekProbe product accessory.
TekProbe is a probe interface architecture with a long-standing performance spanning over 30+ years. In addition to coupling the signal from the probe to the oscilloscope, the TekProbe interface provides power and offset control to active probes. It also allows the oscilloscope to sense the probe's attenuation scale factor and/or probe type.
Note: Tektronix probe types using a BNC connection, or a BNC connection with a single analog encoding pin for attenuation factor detection connect directly to the oscilloscope's TekVPI probe interface and do not require a TPA-BNC adapter.
£844.80
EACH
(Inc. VAT 20%)