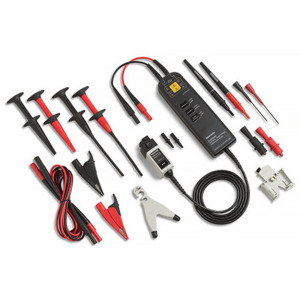 £5,856.00
EACH
Inc. VAT (20%)
Description

Specifications

Documents
TDP0500 High Voltage Differential Probe
Features:
Probe Bandwidth 500 MHz
100 Hz, 10 kHz, 1 MHz, and Full Bandwidth Selectable Bandwidth Limiting Filters
Attenuation 5X, 50X
Max input voltage ±100 V (DC + pk AC)
Differential input capacitance ≤1 pF
Differential input resistance 1 megohm
Differential input offset range ±42 V (5X or 50X attenuation)
Cable length 47.2 in.
Small Compact Probe Head for Probing Small Geometry Circuit Elements
Connect Directly to Oscilloscopes with the TekVPI Probe Interface
Provides Automatic Units Scaling and Readout on the Oscilloscope Display
Easy Access to Scope Displayed Probe Menu for Probe Setup Control and Operating Status Information
Included Accessories:
Y-lead set - 2
Solder-down lead set, 1 in. - 1
Solder-down lead set, 3 in. - 1
Micro CKT test tip - 3
Tip savers - 2
Longhorn adapters - 2
Straight-pin probe tips - 8
3-inch ground leads - 2
Color-coding bands - 2 each of 5 colors
Nylon carrying case - 1
Tektronix TDP0500 High Voltage Differential Probes provides excellent high-speed electrical and mechanical performance required for today's Switch Mode Power Supply (SMPS), CAN/LIN Bus, and high-speed digital system designs.
Specifically designed for use with and direct connection to Tektronix oscilloscopes with either the TekVPI probe interface, or TekProbe BNC Interface.
Powered directly by oscilloscopes with the TekVPI interface
£5,856.00
EACH
Inc. VAT (20%)