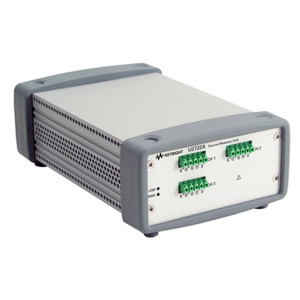 Description

Specifications

Documents
4-Quadrant operation
3 Channels (±20 V/±120 mA each channel)
16-Bit resolution across all current & voltage ranges
100 pA Resolution @ 1 µA range
Parametric tests include connectivity, test point measurement, leakage current, current-voltage source/measure, resistance measurement
High speed USB2.0 (480 MBits/s) TMC488.2 compatible
Standalone and modular capabilities
The Keysight U2722A USB modular source measure unit is more than just a power supply - it has fast response time, and has voltage and current programming/readback with high accuracy measurement capabilities. The U2722A is capable of four-quadrant operation, acting as current source and also as current sink (load) with both polarities of the output voltage.

Includes:
12 V, 3 A AC/DC adapter and power cord
Plug-in connectors and cable casing
USB Standard-A to Mini-B interface cable
L-Mount kit (used with the modular instrument chassis)
Keysight Automation-Ready CD (contains the Keysight IO Libraries Suite)
Keysight USB Modular Products Quick Start Guide
Keysight USB Modular Products Reference CD-ROM
Keysight Measurement Manager (AMM)
Certificate of Calibration
A BenchVue software license (BV0023B) is now included with your instrument. BenchVue makes it simple to connect, control instruments, and automate test sequences.