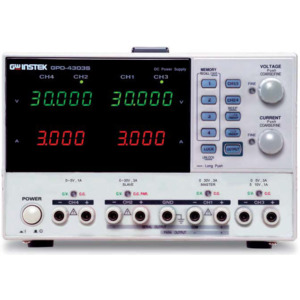 £695.21
EACH
(Inc. VAT 20%)
Description

Specifications

Documents
Three independent outputs: 0-30V, 0-3A x 2; 2.5V/3.3V/5V/3A x 1
4 LED displays: 3 digits after decimal point
Minimum resolution: 1mV/1mA (GPD-3303S),100mV/10mA (GPD-3303D)
Digital panel control (rotary encoder Switch, rubber key with indicator)
User-friendly operation, coarse/fine volume control
4 sets save/recall
Key-lock
Warning buzzer
Output on/off
Tracking series and parallel mode
Smart cooling fan achieving low noise
Light-weight and compact design
USB interface
PC software, LabVIEW driver
The GPD-3303S and GPD-3303D programmable power supplies provide 195W output power, three isolated output channels, high resolution output (GPD-3303S), a digital control panel, 4 sets of setup memory, USB remote control, smart cooling fan control, high reliability, and a compact size. The GPD-3303S / GPD-3303D establishes a new benchmark for economical programmable linear D.C. power supplies.
The most remarkable feature of this series is the minimum 1mV/1mA resolution of the GPD-3303S. The high resolution of the GPD-3303S is ideal for any applications that need accurate control of power sources.
Both power supplies feature a USB port, a digital panel and the same output and features.
Number of Outputs: 
Triple Output
Output Voltage: 
2.5V/3.3V/5V, 30V x 3
Input Voltage: 
100/120/220/230 VAC
Special Features: 
Series, Parallel Modes
£695.21
EACH
(Inc. VAT 20%)