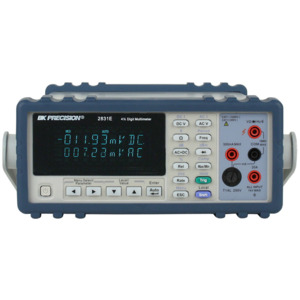 £469.20
EACH
(Inc. VAT 20%)
Description

Specifications

Documents
4.5 Digit resolution
20,000 counts
0.03% basic VDC accuracy
Dual display to indicate two measurements simultaneously
AC + DC True RMS
Up to 25 readings per second measurement rate
Built-in math functions: Rel, Max/Min, dBm, dB, %, Hold, Compare
CATI (1000 V)/CATII (300 V) protection
USB interface
SCPI compatible
1 Year Warranty
The 2831E offers a remarkable accuracy of 0.03%, a digital dual display for viewing two measurements simultaneously, a fast measurement rate of up to 25 readings per second, threshold settings for quick Pass/Fail testing, plus the ability to download measurement values to a computer via USB interface using SCPI protocol.
This bench-top DMM provides True RMS precision with a 20,000 count display. Its AC+DC capability captures any DC effects within the measured voltage or current for the most accurate results. Housed in a rugged case for easy stacking, the front panel of the 2831E has a bright display and tactile pushbutton control with easy-to-follow second function commands.
This hardworking instrument provides all expected measurements of AC and DC voltage to 750V and 1000V, respectively, AC and DC current to 20 A, resistance, frequency, and continuity test. Add to this the bonus built-in math functions of REL (relative) for offset measuring, Max/Min for capturing highest and lowest values, dB, dBm, Data Hold, and Compare. Wide measurement ranges, accuracy, and affordability make this the multimeter of choice on the test bench.
Accessories Included: Test leads, Power cord, Spare fuse, Operation Manual, Calibration certificate and test report.
£469.20
EACH
(Inc. VAT 20%)