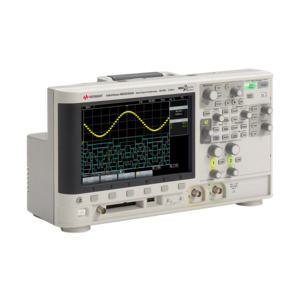 £2,962.80
EACH
(Inc. VAT 20%)
Description

Specifications

Documents
70 MHz, 4 Channels
Upgrade to an MSO at any time
1 GSa/s per channel, 2 GSa/s half-channel
Memory: 1 Mpts
Update Rate: 200,000 waveforms/s
Waveform math and FFT
Built-in WaveGen 20 MHz Function Generator (optional)
8.5" WVGA color display
USB host and device ports for connectivity, memory devices, and printing
Optional LAN and VGA interface
Optional GPIB interface
Five-year warranty
Get More From Your Oscilloscope
Test even more efficiently with additional capabilities that will speed up your testing and help you learn about the different functions of an oscilloscope.
Add integrated instruments to do even more with your oscilloscope: 20 MHz function generator, hardware serial protocol triggering and decode, MSO, digital voltmeter, and frequency counter
Test faster with the intuitive InfiniiVision user interface
Learn how to use the instrument with various signal conditions with the built-in training signals
Get answers to your questions in a second by holding down any button and reading the pop-up help screen
Protect your investment with full upgradeability at any time for features like bandwidth, instrument integration, and advanced applications
Automate tests and collect data with the standard BenchVue software
Keysight InfiniiVision X-Series oscilloscopes offer compelling benefits for engineers and technicians to:
See more of the signal more of the time: InfiniiVision 2000 X-Series models provide the fastest update rates in their class -- up to 50,000 waveforms per second -- with MegaZoom IV technology that also minimizes blind time and maintains responsiveness with deep memory enabled. All InfiniiVision X-Series models are equipped with an 8.5-inch WVGA display, which offers twice the viewing area of other popular scopes. Yet they weigh only 8.5 pounds and conserve bench space with a small footprint, about 15 inches wide and less than 6 inches deep.
Do more with the power of four instruments in one: In addition to best-in-class oscilloscope performance, InfiniiVision X-Series oscilloscopes offer optional integrated MSO capability for time-aligned digital and analog signal viewing, and an optional integrated WaveGen function generator.
Get more investment protection with upgrade options: The InfiniiVision X-Series is the only fully upgradable (including bandwidth) scope in its class so engineers and technicians can purchase what they need today and add capability as their performance needs evolve. Optional measurement software packages add functionality, either at time of purchase or as needs arise:

Segmented memory for analysis of laser pulses, radar bursts and serial packets;
Hardware-accelerated mask testing to quickly perform pass/fail analysis using known good waveforms
Digital Channels: 
Upgrade Required
£2,962.80
EACH
(Inc. VAT 20%)