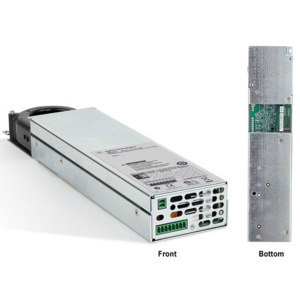 £6,649.20
EACH
Inc. VAT (20%)
Description

Specifications

Documents
2-Quadrant Source/Measure Unit for Functional Test, 20 V, ±1 A or 6 V, ±3 A, 20 W
Output Ratings:
Voltage: Up to 20 V
Current: Up to ±3 A
Power: 20 W
Programming Accuracy (at 23°C ± 5°C after 30 minute warm-up. Applies from min. to max. program):
Voltage, 20 V range: 0.025% + 1.8 mV
Voltage, 6 V range: 0.025% + 600 µV
Current, 3 A and 1 A ranges: 0.04% + 300 µA
Current, 300 mA range: 0.03% + 150 µA
Transient Response:
< 30 mV of droop in response to 0.15A / µs current transients
Measurement Accuracy (at 23°C ± 5°C):
Voltage, 20 V range: 0.025% + 1.2 mV*
Current, 3 A range: 0.03% + 250 µA*
Current, 100 mA range: 0.025% + 10 µA*
Current, 10 µA range: 0.025% + 8 nA
*Supports Seamless Measurement Ranging
Keysight N6782A is a source/measure unit (SMU) designed specifically for advanced functional testing of a device. The ability to modulate the output up to 100 kHz along with capability to source and sink current (2-quadrant operation) makes the N6782A a perfect fit for advanced functional test of a variety of devices such as DC/DC converters, power management units, power amplifiers, and power management ICs. The input stage of the DUT can be stimulated by the fast sourcing and waveform capabilities. While the output stage can be loaded down and measured with the electronic load capabilities, providing a total test solution.
*Keysight patented feature: Seamless Measurement Ranging
Seamless measurement ranging eliminates the challenges of measuring dynamic currents. With seamless measurement ranging, engineers can precisely measure dynamic currents without any glitches or disruptions to the measurement. As the current drawn by the DUT changes, the SMU automatically and instantaneously detects which current measurement ranges will return the most precise measurement and changes to that range seamlessly. When combined with the SMU's built-in 18-bit digitizer, seamless measurement ranging enables unprecedented effective vertical resolution of 28-bits. This provides unrivaled productivity gains and insights into power consumption by enabling engineers to see the complete current waveform they have never seen before, from nA to A, in one pass and one picture.
Other features and benefits of the N6782A:
Glitch-free sourcing and measurement - change output and measurement ranges without any glitches
2-quadrant operation - perform as a voltage or current source or as a CV or CC electronic load
Four current measurement ranges - precisely capture the current levels of the DUT during different modes of operation
Excellent transient response - keep voltage or current stable during high-speed load changes
Fast modulation of DC - create waveforms up to 100 kHz to stimulate or load down the DUT
High-speed digitized measurements - capture/view the power consumption of the DUT up to every 5 µs with built-in 200 kHz digitizer
£6,649.20
EACH
Inc. VAT (20%)