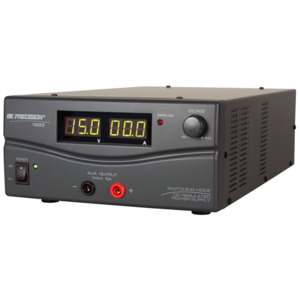 Description

Specifications

Documents
1-15V, 60A Switching DC Power Supply
1-15V, 60A, 900 W
Lightweight and compact
Dual 3-digit LED displays
Remote sense terminal
Analog remote control via external voltage source or variable resistor
Current fold back circuitry with illuminated indicator prevents overloading the power supply
Overtemperature protection circuitry
Overvoltage protection
Front panel auxiliary output
Includes: Power cord, instruction manual, remote control connector
1-Year warranty
High Current at a Low Price
The B&K Precision 1693 switching mode 900 watt DC power supply provides high current output in a lightweight and compact package. It is suitable for a variety of uses, especially for powering DC operated mobile radio equipment on the bench. Voltage output is variable from 1V to 15V at 60A continuous operation. In addition, a remote sensing terminal is available for use to compensate for voltage drop across load leads.
The output voltage level can also be externally controlled via an analog remote control terminal. Bright red and green LED displays provide for an accurate and highly readable indicator of settings.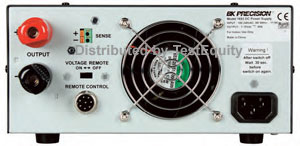 Rear panel, showing high current output terminals,
sense terminals, and remote control connector (mating cable supplied).
| Outputs / Model | 1693 | 1694 |
| --- | --- | --- |
| Variable Output Voltage | 1 - 15 V | 1 - 30 V |
| Output Current | 60 A | 30 A |
Number of Outputs: 
Single Output
Voltage Range Selector: 
0) 1-19.9
Current Range Selector: 
6) 50-99.9
Input Voltage: 
100-240 VAC
Power Range Selector: 
2) 500-999
Special Features: 
Switching, Remote Sense