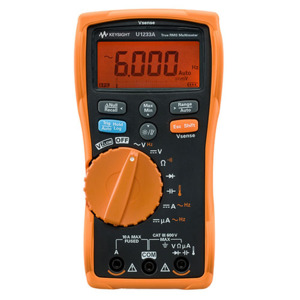 £399.60
EACH
(Inc. VAT 20%)
Description

Specifications

Documents
6,000 counts, CAT III 600V rated
True RMS AC to 1kHz, AC/DCV: 600mV to 600V, AC/DCI 60µA to 10A, Resistance, Capacitance, Diode, Continuity, Temperature, Vsense
Vsense to perform non-contact voltage detection
Built-in flashlight
Flashing backlight as visual alert
Store select data for analysis at a later time
Data logging capability (stores up to 10 readings)
IR connectivity to transfer data to PC for record
3-Year warranty
Ergonomically shaped with a built-in flashlight
Built for handheld users working in a poorly lit environment, the U1230 Series allows you to single-handedly illuminate your test area while making measurements with its easily activated built-in flashlight. Its ergonomic shape fits your hand, while the easily accessible rotary dial allows selection of measurement functions.
The U1230 Series DMMs minimize the need to second-guess a measurement in dark/noisy environments. Whether it's dark, noisy or even dangerous, the multimeters help you prepare for these conditions with features that anticipate worst-case scenarios, but make everyday tasks easier.
Non-contact voltage detection with Vsense
The Vsense, a unique feature found in the U1233A, performs non-contact voltage detection. It delivers more safety while making measurements in dangerous working environments by avoiding any contact with hot or live wires. Upon detection of voltage, it produces a unique combination of beeping alert and blinking LED light to make measurements more efficiently — especially in a dark or noisy environment.
Flashing backlight and beeping alert for continuity detection
Using just one hand, you can illuminate the test area with its built-in flashlight while you measure and change or choose measuring functions. Vsense performs non-contact voltage detection (U1233A) while the unique combination of beeping alert and blinking display/LED allows you to safely detect hot wires, and easily make continuity measurements.
Ships with: U1167A test leads, certificate of calibration, four AAA batteries, Quick Start Guide.
Keysight U1230 Series Digital Multimeters
U1231A

U1233A

Display resolution
6,000 counts
Auto/manual ranging
Yes
Yes
Yes
Analog bar graph
Yes
Yes
Yes
Backlight
Yes
Yes
Yes
Voltage AC/DC
600 mV to 600 V
Current AC/DC
N/A
60 µA to 10 A
60 µA to 10 A
Resistance
600 Ω to 60 MΩ
Capacitance
1000 nF to 10 mF
PC-Connectivity
IR-USB
Vsense


non-contact voltage detection

No
No
Yes
Display Digits: 
6,000 Count
£399.60
EACH
(Inc. VAT 20%)