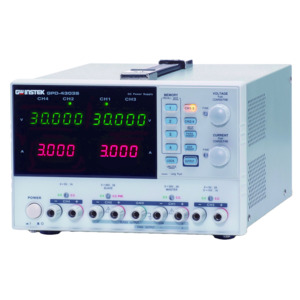 £725.91
EACH
(Inc. VAT 20%)
Description

Specifications

Documents
180 – 200 Watts; 2/3/4 Independent Isolated Output
4-LED Display Sets: 3 digits after decimal point (GPD-2305S/GPD-3303S/GPD-4303S)
Minimum Resolution: 1mV/1mA (GPD-2303D/GPD-3303S/GPD-4303S); 100mV/10mA (GPD-3303D)
Digital panel control (rotary encoder Switch, rubber key w/indicator)
User-friendly operation, coarse/fine volume control
4 LED Sets Save/Recall
Key-Lock, Output on/off
Tracking Series and Parallel mode
Smart cooling fan achieving low noise
USB Standard Interface
PC Software & USB Driver
Labview driver
180 to 200 Watt Multiple Output High Resolution Programmable Linear D.C. Power Supplies
GW Instek's GPD Series offers digital panel control, large display, bright LED indicators, high output resolution, 4 sets of setup memory, USB remote control and smart cooling fan control. Additionally , they feature easy operation, a wide selection of panel setting and operation, and a wide selection of panel settings. Additionally, the Auto Series/Parallel Tracking mode of GPD Series effectively expands the rated voltage and the rated current covering applications up to 30V / 6A (Parallel Mode), or 60V / 3A (Series Mode).
High Resolution
With 1mV / 1mA high resolution and coarse / fine volume control, the four models in the GPD Series guarantee a clean and stable power output. The nearly continuously-variable voltage and current operations of GPD Series greatly facilitates the test or control of the DUT within very little voltage/current changes, which is unattainable when a low resolution power supply is used.
Manual or Remote Output on / off Control
To avoid the damage to the DUT caused by unsustainable voltage or current output, GPD Series power supplies provide output on/off function to avoid burnt-out risk. You can preset the voltage and current limits, check the DUT connection, then turn on / off the output by manual operation. The GPD Series models also provide USB device port, which allows the remote control of the power supply based on the application needs. For high speed data transfer, these power supplies cover a baud rate range from 9600 bps to 115200 bps (Maximum).
Series or Parallel Function
The GPD-2303S / GPD-4303S can operate under auto Series / Parallel tracking mode, which internally connects CH1 and CH2 power outputs to provide a master output at 30V / 6A under Parallel Mode, or 60V / 3A under Series Mode.
Intelligent Cooling Fan Control
Smart cooling fan control offers a well balanced cooling mechanism, which ensures quiet operation of the power supply.
Digital Control Panel
The GPD Series adopts digital panel design, instead of conventional switch design, for product setting and control. With this digital control panel, these power supplies are able to provide additional advanced features, including SAVE / RECALL memory, which allows user to restore the panel settings easily, and the key lock function, which prevents the accidental changes over voltage or current settings to protect DUT. In addition, every key pad is equipped with a back light, which indicates the status of existing setting and operation of the product.
Models

GPD-4303S

GPD-3303S

GPD-2303S

GPD-3303D

Channels
CH1
CH2
CH3
CH4
CH1
CH2
CH3
CH1
CH2
CH1
CH2
CH3
Voltage
0 to 30V
0 to 5V /
5.001 to 10V
0 to 5V
0 to 30V
2.5V / 3.3 /
5.0V
0 to 30V
0 to 30V
2.5V / 3.5 /
5.0V
Current
0 to 3A
0 to 3A /
0 to 1A
0 to 1A
0 to 3A
0 to 3A
0 to 3A
0 to 3A
0 to 3A
Power
200 W
195 W
180 W
195 W
Number of Outputs: 
Quad Output
Output Voltage: 
5-10V, 30V x 2
Output Current: 
1A, 3A x 2
Input Voltage: 
100/120/220/230 VAC
Special Features: 
Series, Parallel Modes
£725.91
EACH
(Inc. VAT 20%)