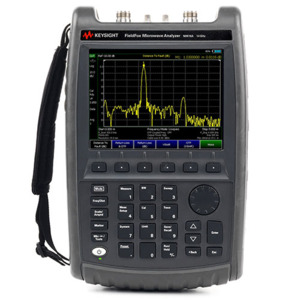 Description

Specifications

Documents
Cable and Antenna Analyzer (CAT), Vector Network Analyzer (VNA, optional)
30 kHz to 18 GHz
Dynamic range: 100 dB
CAT: Distance-to-fault, return loss, cable loss
VNA (optional): S11, S21, S22, S12, magnitude and phase
Spectrum Analyzer (optional)
5 kHz to 18 GHz
± 0.5 dB amplitude accuracy, full band, over full temperature range of -10 to +55°C (14 to 131°F)
Spur-free dynamic range: ≥ 105 dB
Full-band tracking generator
Designed to Withstand Your Toughest Working Conditions
The N9917A FieldFox 18 GHz RF Combination Analyzer's base function is a cable and antenna analyzer and it can be configured to include a spectrum and network analyzer. FieldFox can be ordered with additional capabilities: power meter, independent signal generator, vector voltmeter, interference analyzer, variable DC source, and built-in GPS receiver.
Independent source, vector voltmeter (VVM), power sensor and built-in measurements
RF source: 30 kHz to 18 GHz, CW, CW coupled, and tracking
VVM: 30 kHz to 14 GHz, compare phase and electrical length
Power measurements with USB sensor: 9 kHz to 24 GHz (sensor dependent)
Built-in power meter: 100 kHz to 18 GHz
Includes: AC/DC Adapter, 1 battery, soft carrying case, LAN cable, quick reference guide, and user's guide.