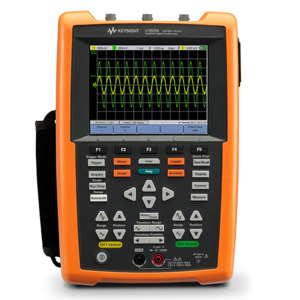 £6,540.00
EACH
Inc. VAT (20%)
Description

Specifications

Documents
Uncompromised signal integrity
Bandwidth: 200 MHz
Sample rate: Up to 2GSa/s
Recording Length: Up to 2Mpts
Dual waveform zoom
Conquer your elements
Channel-to-channel isolation for high power signal troubleshooting
Debug under any lighting condition with three viewing modes (Indoor, Outdoor, Night Vision)
High resolution, wide viewing angle, fast update rate 5.7" TFT LCD display
10 selectable localized user interfaces
IP 41 ingress protection
Multiple instruments in one
Full featured DMM function
Built-in logger function
The World's First Handheld Scopes with a VGA display
Keysight U1610A and U1620A are the world's first handheld oscilloscopes with a VGA display. These handheld oscilloscopes offers a floating measurement capability with two CAT III 600 V isolated channels. Engineered with a benchtop-like display and dual window zoom function, it easily identifies problem areas and zoom in for more detailed analysis. With these, you can now view signals in detail and detect glitches easily.
5.7-inch VGA display with 3 selectable viewing modes:
Indoor mode - The indoor mode has high contrast and brightness levels to clearly distinguish waveforms under an indoor light environment. Engineered with a VGA TFT LCD screen, users can now view the display across wide viewing angles for more efficient troubleshooting task.
Outdoor mode - When performing field work in an outdoor environment, users can easily switch to this viewing mode via a set of accessible soft keys. This mode works in an anti-glare mechanism; it filters out excessive sunlight, hence reducing the risk of misreading or misinterpreting measurements.
Night vision mode - The night vision mode is tailored to be viewable under subdued lighting by enabling high contrast levels between the screen background and waveforms. With a single press of button, this mode is activated and the screen automatically adjusts with proper color correction-creating clear contrasts between the waveforms against the dark environment. This mode is useful when measuring high speed signals, particularly in non-repetitive signals.
Includes: Three-year warranty, Quick start guide, power adapter, Li-Ion battery pack, USB cable, test lead and two (2) 10:1 probes.
Display Type: 
5.7 VGA TFT LCD
£6,540.00
EACH
Inc. VAT (20%)