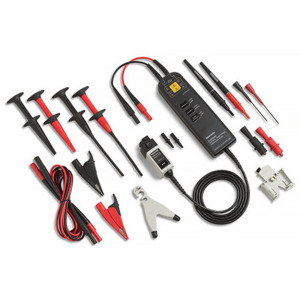 £3,060.00
EACH
(Inc. VAT 20%)
Description

Specifications

Documents
TMDP0200 Differential Probe
The TMDP0200 is designed for medium-voltage applications with differential requirements up to ± 750 V.
Features:
Designed for medium-voltage applications
Differential voltage to ±750 Volts
Attenuation: 25X / 250X
200 MHz
Overrange Indicator
Safety Certified
Switchable Attenuation
Switchable Bandwidth Limit
Maximum Input Voltage-to-Earth: 550 V CAT I, 300 V CAT III
Includes: 2 hook clips (AC280-FL), 2 pincer clips (AC283-FL), 2 alligator clips (AC285-FL), 2 extension cables (196-3523-00), 2 test leads (TP175-FL), 1 high-voltage differential browser (THV-BROWSER), and 1 probe holder (TPH1000).
The TMDP0200 Differential Probe is equipped with the TekVPI interface which allows smart communication between the oscilloscope and probe. Pushing the probe menu button will launch the probe control menu on the oscilloscope display providing access to all relevant probe settings and controls.
As with all TMDP and THDP Series probes, the TMDP0200 is designed to operate on TekVPI oscilloscopes without requiring the TPA-BNC adapter.
Applications:
Floating Measurements
Switching Power Supply Design
Motor Drive Design
Electronic Ballast Design
Power Converter Design and Service
Power Device Evaluation
£3,060.00
EACH
(Inc. VAT 20%)