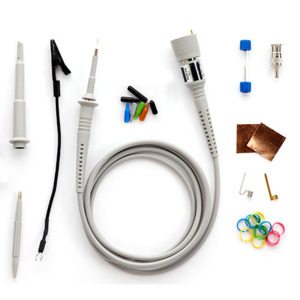 £577.20
EACH
Inc. VAT (20%)
Description

Specifications

Documents
Keysight N2894A 10:1 700 MHz Passive Oscilloscope Probe
Features and Specifications
700 MHz bandwidth
10:1 attenuation ratio
9.5 pF input capacitance
10 MΩ input resistance (when terminated into 1 MΩ scope input)
400 V CAT I and 300 V CAT II maximum input voltage
Scope compensation range: 10 - 25 pF
The N2894A passive probe has a 10:1 attenuation factor and a DC to 700 MHz range to suit various measurement needs.
The Keysight N2894A Series passive probes have a small 2.5-mm probe head diameter, low input capacitance, and different fine-pitch probe tip accessories that make them perfect for probing IC components or surface-mount devices that are closely packed in modern high-speed digital applications.
The probe tip is sharp and spring loaded to prevent engineers from losing contact with the device under test. IC caps insulate the tiny probe tip and keep it aligned with the IC lead without causing any short circuits. Standard flat blade ground connector and self-adhesive copper ground pad lower ground inductance and provide easy ground access. Optional probe tip accessories offer specialized features for challenging applications.
This probe works with Keysight InfiniiVision 4000 X Series oscilloscopes that have a 1 MΩ input. The N2894A achieves 700 MHz system bandwidth when used with the 4000 X-Series 1 GHz/1.5 GHz models.
What's in the Box
Spring loaded probe tips, 2 Each
Rigid probe tips, 2 Each
Ground blade
Ground spring
Sprung hook
Ground lead
Copper pads, 2 Each
IC cap to 0.5 mm, 0.65 mm, 0.8 mm, 1 mm, 1.27 mm, qty 1 Each
BNC adapter
Insulating cap
Protection cap
Trimmer tool
Color coded rings, 3x4 colors
Series Compatibility: 
InfiniiVision 4000 X Series
Safety Rating: 
CAT1, CAT2
£577.20
EACH
Inc. VAT (20%)