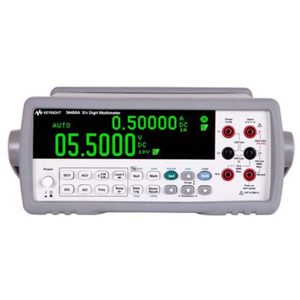 £1,132.80
EACH
(Inc. VAT 20%)
Description

Specifications

Documents
Ultra-bright 5-1/2 digit OLED with dual-display capability
Fast reading speed up to 190 readings/sec
0.015% DCV accuracy
USB 2.0, RS-232* connectivity included; GPIB optional
Fluke 45 and Fluke 8808A code compatible
8 measurement functions including 4-wire, capacitance and temperature
Optional 50,000 memory points for data logging (3445MEMU)
Built-in Histogram function
Optional GPIB (3445GPBU)
Three-year warranty
*The 34450A uses the 5-pin male connector on the rear panel to form a minimal 3-wire RS 232 connection without an RS-232 receptacle. Keysight 34450A-700 Adapter cable adapts this to a DB-9 connector.
Intuitive and Multipurpose Device
The 34450A is an intuitive and easy to use tool that provides a wide range of measurement functions such as DC voltage, DC current, True RMS AC voltage and AC current, 2-wire and 4-wire resistance, frequency, diode test, continuity, capacitance and temperature. Simplify your day-today task with up to 50,000 memory points, allowing you to capture and log up to 14 hours of data. Built-in with histogram and basic statistical functions, you can now do simple data analysis within the unit itself. With its ultra-bright OLED dual display, different measurements can be performed ensuring you get the right readings at first glance.
More Flexibility with Multiple Connectivity
USB 2.0, RS-232 (both included) and optional GPIB provides greater flexibility to connect the 34450A to a PC for data access and retrieval for analysis. With the option to connect to a PC, this enables the 34450A to work with Keysight Connectivity software and can be controlled remotely via SCPI commands or Command Expert. The IVI-COM driver is also included to ensure an easy integration with different programming environments.
Easy Migration
Upgrading your obsoleted DMM is made easy with minimal changes to test program. To ensure both forward and backward compatibility, the 34450A includes SCPI, Fluke 45 or Fluke 8808A commands. Experience a quick, easy and painless migration as it allows you to quickly transfer your existing test programs on the Keysight 34450A.
The 34450A provides eleven measurement functions:
2- and 4-wire Resistance
DC voltage
DC current
True RMS
AC voltage
AC current
Frequency
Continuity
Diode test
Capacitance
Temperature
Included: test lead kit, power cord, USB interface cable, certification of calibration, Quick Start guide, product reference CD, Keysight IO library suite CD-ROM
A BenchVue software license (BV0001B) is now included with your instrument. BenchVue makes it simple to connect, control instruments, and automate test sequences.
£1,132.80
EACH
(Inc. VAT 20%)