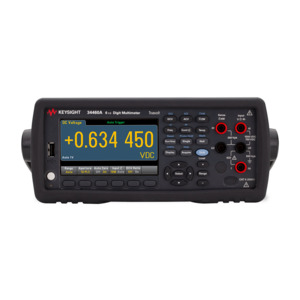 £1,250.40
EACH
(Inc. VAT 20%)
Description

Specifications

Documents
34460A: USB included. Optional LAN/LXI, GPIB.
1-year DCV basic accuracy 75 ppm
300 readings/s, 1,000 reading memory, plus front panel USB
Measure up to 1000 VDC, 750 VAC with 6-1/2 digits resolution
DCV, ACV, DCI, ACI, 2- and 4-Wire Resistance, Frequency, Period, Continuity, Diode, Current, Temperature
Color graphical display with Number, Histogram, Bar Chart, Trend Chart, Math and Statistics
UL, CSA, CE
Three-year warranty
The Best Just Got Better
The Keysight 34460A and 34461A 6-1/2 digit digital multimeters (DMMs) offer Truevolt technology that provides measurement and display capabilities like you've never experienced before. Keysight's exclusive Truevolt technology is based on patented analog to digital converter technology and eliminates extraneous factors like noise, injected current and input bias current from measurements to give you the highest confidence in your measurement accuracy. This new technology allows you to focus more on the quality of your designs rather than worrying about the quality of your measurements.The new graphical display capabilities allow you to easily display, save and document your results.
Truevolt Technology
Real-world signals are never flat. They have some level of AC signal riding on top from power line noise, other environmental noise, or injected current from the meter itself. How well a DMM deals with extraneous factors and eliminates them from the true measurement makes a big difference to its accuracy. Using patented analog-to-digital converter technology, Keysight Truevolt Series DMMs account for measurement errors created by these real-world factors, so engineers can be confident in their measurements.
Save and document your DMM's data to your PC or mobile device using your preferred I/O
Capture a digitized record, log measurements for longer periods under PC control or upload data captured directly from the instrument. Export data from a single DMM, or multiple DMMs with time alignment, to popular tools such as Microsoft Excel, Microsoft Word and MATLAB. Simplify test documentation and data analysis without the hassles of programming.
34460A DMM
34461A DMM
Resolution
6½ digit
6½ digit
Input terminals
Front
Front and rear
1-year DCV accuracy (%)
0.0075 + 0.0005
0.0035 + 0.0005
Max reading rate
300 readings/s
1,000 readings/s
Measurements
DCV, ACV
100 mV - 1000 VDC, 750 VAC
DCI, ACI
100 µA - 3 A
100 µA – 3 A, 10 A
2- and 4-wire resistance
100 Ω - 100 MΩ
Continuity
300 samples/s with audible tone
Diode
5V
Temperature
RTD/PT100, thermistor
Truevolt
• AC measurements
• Noise
• ISO/IEC spec derivation

• Digital AC (direct digital sampling) 10:1 crest factor
• 50 nA - smallest in the industry
• All specs derived and guaranteed according to ISO/IEC

Graphical display
Color, WQVGA
Number, Histogram, Bar Chart, Math, Statistics
Trend Chart
34401A compatibility
100% SCPI language
Product can ID as native 34401A DMM
Memory
Front panel USB
1,000 readings
10,000 readings
I/O connectivity
included: USB
optional: LAN/LXI, GPIB
included: USB, LAN/LXI
optional: GPIB
Options
ACC (3446ACCU) - accessory kit
optional
included standard
GPB (3446GPBU) - GPIB module
optional
optional
LAN (3446LANU) - LAN & external triggering
optional
included standard
SEC (3446SECU) - NISPOM security
optional
optional
Included: 34460A: Power cord and Calibration certificate. A BenchVue software license BV0001B is now included with your instrument. BenchVue makes it simple to connect, control instruments, and automate test sequences.
£1,250.40
EACH
(Inc. VAT 20%)