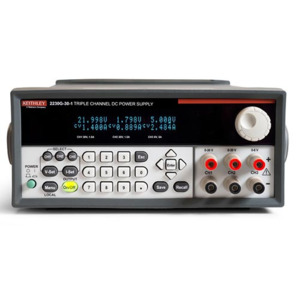 Description

Specifications

Documents
Two 0-30V/0-1.5A and one 0-6V/0-5A (120W total) independently controlled channels
Remote sensing on all channels
Combine 0-30V channels in series to double output voltage or in parallel to double output current
0.03% Voltage Accuracy; 0.1% Current Accuracy
<3mVpp ripple and noise
USB and GPIB interface
Three-year warranty
USB and GPIB Programmable, Three Channels
Keithley 2230G-30-1 three-channel Programmable DC Power Supply combine two channels of output power to cost-effectively characterize and test a wide range of devices, circuit boards, modules, and products that require more than one power source. Model 2230G-30-1 includes two 0-30V/1.5A channels and add a 0-6V channel with up to 5A output for powering digital circuits.
The 2230G-30-1 offers an excellent combination of performance, versatility, and ease of use to maximize the information from characterization or test as quickly and as easily as possible. It performs as effectively in automated test systems as they do in manual instrument configurations.
Independent and Isolated Outputs
Since each of its three channels are completely independent and isolated from each other, the 2230G-30-1 can be used to provide power to two circuits that are optically isolated or transformer-isolated from each other and have different reference points. Its isolated channels eliminate the need for a second power supply to power one of the isolated circuits.
Configure the Channels to Double Output Voltage or Current or Create Bipolar Power Supplies
The two 30V channels can be combined if more than 30V or more than 1.5A is required. The two 30V outputs can be wired in series to enable an output of 60V with a maximum current output of 1.5A or can be wired in parallel to get up to 3A at 30V.
Includes: CS-1655-15 Rear Panel Mating Connector for Series 2200 Power Supplies, Documentation and Driver CD, and three-year warranty.
Number of Outputs: 
Triple Output
Input Voltage: 
120/240 VAC
Special Features: 
Remote Sense