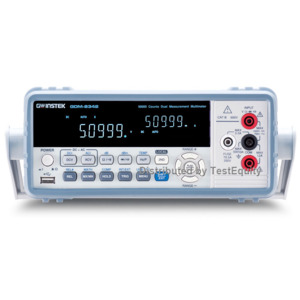 £476.35
EACH
(Inc. VAT 20%)
Description

Specifications

Documents
50,000 counts, two-color Vacuum Fluorescent Display
Dual measurement/Dual display
Three selectable measurement speeds of up to 40 readings/s
The basic precision of DC voltage: 0.02%
Auto/manual Ranging
True RMS (AC,AC+DC) measurements
11 different measurement functions
Max./Min., REL, MX+B, 1/X, Ref%, Compare, Hold, dB, dBm
Standard USB device interface to connect with a computer
Temperature measurement function (GDM-8342 only)
USB storage for Data collection (GDM-8342 only)
Optional GPIB (factory install for GDM-8342)
Three-year warranty
Unrestrained Storage and Connection
GW Instek's GDM-8341 and GDM 8342 Dual Measurement Multimeters have exceptional features that include 50,000 counts, VFD dual-display, 0.02% basic DC voltage accuracy and a USB protocol connector to provide users with measurement precision, lucid data observation, and the convenience to connect with the personal computer.
The GDM-8341 and GDM 8342 not only support the fundamental measurement items provided by general multimeters, but also are equiped with capacitance and temperature measurement functions. Furthermore, they also provide many auxiliary functions to meet the measurement requirements for manufacturing process tests, educational experiments and testing facilities.
With respect to storing and retrieving data, the GDM-8341 and GDM 8342 have two methods to offer: first, the USB flash drive storage function — operating alone without connecting with a computer; second, USB interface (virtual COM port) and optional GPIB interface (must be installed in factory) for automatic measurement system users to conveniently save and retrieve data.
Included: Safety instruction sheet, power cord, GTL-207 test lead, and User's manual, USB driver with PC software on CD.
£476.35
EACH
(Inc. VAT 20%)