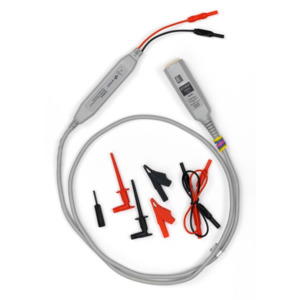 £3,910.80
EACH
Inc. VAT (20%)
Description

Specifications

Documents
Features:
300 MHz bandwidth without extension leads
Measures differential voltage up to ±300 VDC + peak AC with high CMRR of >70 dB at 1 MHz
Zero offset adjustable
AutoProbe interface
Compatible with InfiniiVision 4000 X-Series with software 4.0 or higher
Includes: Two alligator clips, Two pincer clips, Two extension leads (30 cm), 1 trimmer tool
Three-year warranty
The N2804A 300 MHz differential probe provides the superior differential signal measurements required for today's high-speed power measurements such as measuring characteristics of switching power devices, DC-DC converters, class D amplifiers or automotive buses. It offers 100:1 attenuation ratio, allowing it to be used adequate for up to +/-300V DC+peakAC of high voltage differential measurements with high CMRR.
This probe has a differential input resistance of 4 Megohms and low input capacitance of 4 pF to minimize circuit loading. It comes with a pair of extension leads (30 cm long) with a damping resistor built in to damp out the in-band resonance and provide flat frequency response even with the extension leads and the probe tip accessories used. The probe is powered by Keysight's oscilloscope AutoProbe interface.
£3,910.80
EACH
Inc. VAT (20%)