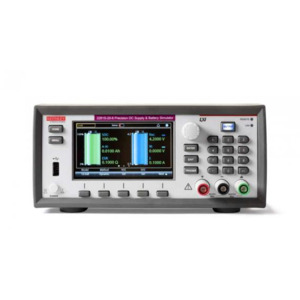 £4,020.00
EACH
(Inc. VAT 20%)
Description

Specifications

Documents
Monitor load currents from 100 nA to 6 A with high accuracy
Measure voltage and current with 6-1/2 digit resolution
Output: up to 120 W of low noise, linear regulated power
Built-in web page simplifies automated control and monitoring
Battery test with charging and discharge function
Sink current up to 1 A and source current up to 6 A
Measure charge/discharge current and voltage
Built-in graphing simplifies analyzing trends or displaying voltage or current waveforms
Compute battery capacity in Amp-Hour and Equivalent Series Resistance (ESR)
Build battery model based on measurement results automatically, which could be used for battery simulation
Generate and edit a battery model
Import and export a battery model
Simulate real battery output during the charging/discharging process with battery model
Set the SOC/Voc, capacity, and resistance of a simulated battery according to test requirements
Provide two modes of simulation: dynamic and static.
Display the real-time change of the SOC, Voc, and Vt for the simulated battery
High resolution TFT display and soft-key/icon-based user interface simplify power supply operation
Digital I/O for direct communication with other devices and instruments
GPIB, USB, and LAN interfaces
Three-year warranty
Precision DC power supply, with DMM-Quality High Resolution, Low Current Measurements capability
Keithley Model 2281S single channel, Precision DC Supply and Battery Simulator innovatively integrates the functions of high-precision power supply, battery test, and battery simulation. It is able to analyze the DC consumption of a device under test, test a battery and generate a battery model based on battery charging process, and simulate a battery based on the battery model. The Model 2281S-20-6 can output up power to 20 V and 6 A, and sink current up to 1 A.
The 2281S use linear regulation to ensure low output noise and superior load current measurement sensitivity. A high resolution color Thin Film Transistor (TFT) screen displays a wide range of information on measurements. Soft-key buttons and a navigation wheel combine with the TFT display provide an easy-to-navigate user interface that speeds instrument setup and operation. In addition, built-in plotting functions allow monitoring trends such as drift. These features provide the flexibility required for both benchtop and automated test system applications. In addition, the 2281S provide a list mode, triggers, and other speed optimization functions to minimize test time in automated testing applications.
A choice of front or rear panel terminals provides enhanced connection flexibility. For maximum voltage accuracy, 4-wire remote sensing ensures that the output voltage programmed is actually the level applied to the load. In addition, the sense lines are monitored in order to detect any breaks in them. These features ensure any production problems can be quickly identified and corrected. Series 2280S supplies can be controlled via their built-in GPIB, USB, or LAN interfaces. The USB interface is test and measurement system (TMC) compliant. The LXI Core compliant LAN interface supports controlling and monitoring a Series 2281S supply remotely, so test engineers can always access the power supply and view measurements, even if they're located on a different continent than their test systems.
Measuring a battery during charging/discharging process
In the 2281S battery test function, you can conduct a charging/discharging test on a battery. Charging current ranges from 0 to 6 A, and the maximum discharging current is 1 A. During the charging, you can set the sampling interval for the internal 6 ½ digits multi-meter to sample the charging current and voltage continuously. Then the capacity of the battery is integrally computed, also the ESR will be computed. All the test result are saved in the internal memory.
Included with 2281S-20-6: Quick Start Guide, KickStart Quick Start Guide, user documentation CD and crossover cable.
£4,020.00
EACH
(Inc. VAT 20%)