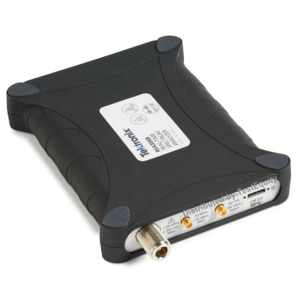 £6,204.00
EACH
(Inc. VAT 20%)
Description

Specifications

Documents
RSA306B USB Real Time Spectrum Analyzer
Features:
9 kHz to 6.2 GHz frequency range covers a broad range of analysis needs
+20 dBm to -160 dBm measurement range
Mil-Std 28800 Class 2 environmental, shock and vibration specifications for use in harsh conditions
Acquisition bandwidth of 40 MHz enables wideband vector analysis of modern standards
Minimum signal duration of 100 μsec captured with 100% probability of intercept
Full-featured spectrum analysis capability with included Tektronix SignalVu-PC software
17 spectrum and signal analysis measurements standard
Options for mapping, modulation analysis, WLAN, LTE, and Bluetooth standards support, pulse measurements, playback of recorded files, Signal Survey, and frequency/phase settling
Real time Spectrum/Spectrogram display to minimize time spent on transient and interference hunting
Application programming interface (API) included for Microsoft Windows environments
MATLAB instrument driver for use with Instrument Control Toolbox
Streaming capture records long-term events
Three-year warranty
Included with RSA306B: 174-6796-xx USB 3.0 locking cable (1 M), 063-4543-xx SignalVu-PC software, documentation, USB key, and printed safety/installation manual.
RSA306B: a new class of instrument
RSA306B offers full-featured spectrum analysis and deep signal analysis at a price unmatched by any previous offering. Using the latest in commercial interfaces and available computing power, the RSA306B separates signal acquisition from measurement, dramatically lowering the cost of instrument hardware. Data analysis, storage and replay is performed on your personal computer, tablet or laptop. Managing the PC separately from the acquisition hardware makes computer upgrades easy, and minimizes IT management issues.
The RSA306B with SignalVu-PC offers basic and advanced measurements for field and lab
See what you've never seen before: The 40 MHz real time bandwidth of the RSA306B combined with the processing power of SignalVu-PC shows you every signal, even down to 100 μs in duration. The following image shows a WLAN transmission (green and orange), and the narrow signals that repeat across the screen are a Bluetooth access probe. The spectrogram (upper part of the screen) clearly separates these signals in time to show any signal collisions. Real-time processing of the DPX spectrum/spectrogram is enabled in your PC, and a MATLAB driver for the API is available, enabling operation with MATLAB and the Instrument Control Toolbox.
Perform basic pre-compliance testing
EMI pre-compliance and diagnostic measurements are easy with the RSA306B and SignalVu-PC. Transducer, antenna, preamplifier, and cable gain/loss can be entered and stored in correction files, and the standard spurious measurement feature of SignalVu-PC can be used to establish limit lines for your test. CISPR peak detection and -6 dB filter bandwidths are standard functions, giving you comparable results to other tools.
Computer requirements
The RSA306B requires a PC with Windows 7, Windows 8/8.1, or Windows 10, 64-bit operating system. A USB 3.0 connection is required for operation of the RSA306B. 8 GB RAM and 20 GB free drive space is required for installation of SignalVu-PC. For full performance of the real-time features of the RSA306B, an Intel Core i7 4th generation processor is required. Processors of lower performance can be used, with reduced real-time performance. Storage of streaming data requires that the PC be equipped with a drive capable of streaming storage rates of 300 MB/sec.
DataVu-PC Analysis Software
DataVu-PC provides advanced analysis for recorded files from all Tektronix real time spectrum analyzers. DataVu-PC adds new capabilities to the analysis of large recordings. You can choose one of three bandwidth-dependent base version (SPAN) node-locked or floating licenses. SMARK and PULSE licenses are independent of bandwidth. SMARK licenses require a base license of any bandwidth, and PULSE licenses require a SMARK license. A one-year floating demo license is available.
The RSA306B is ideally-suited for applications such as Academics/education, maintenance, installation and repair in the factory or field, value-conscious design and manufacturing, and Interference hunting.
£6,204.00
EACH
(Inc. VAT 20%)